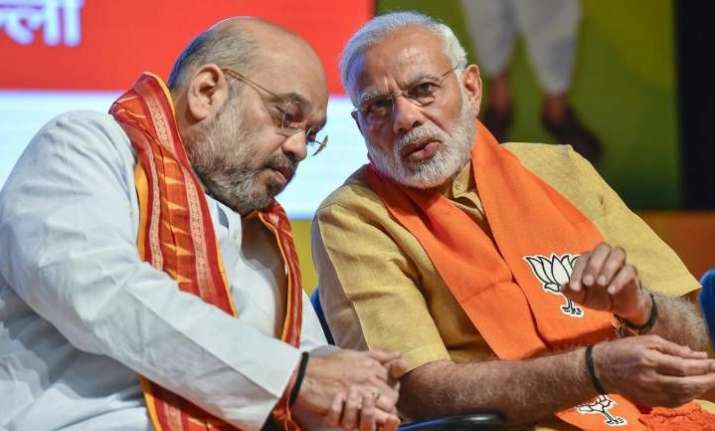 Bharatiya Janata Party (BJP) chief Amit Shah is set to become a Union minister in Modi Sarkar 2.0.
As per reports, the senior BJP leader, often called 'Chanakya' due to his political understanding and histrionics, will take oath as a Cabinet minister at 7 pm on Thursday.
Amit Shah, in his decade-long political career, has never held a Cabinet portfolio and has always chosen to work from the background and strengthen the saffron party.
Amit Shah, along with Prime Minister Narendra Modi, has often been accredited for revamping the BJP. Under the duo, the BJP-led National Democratic Alliance (NDA) beat the Congress party -- not once, but twice.
The swearing-in ceremony of PM Modi and his Council of Ministers in the forecourt of the Rashtrapati Bhavan is expected to be grand affair with more than 6,000 guests, including leaders from the BIMSTEC countries, opposition leaders Rahul Gandhi and Sonia Gandhi, chief ministers, corporate honchos and film stars set to be in attendance as President Ram Nath Kovind administers the oath of office and secrecy to 68-year-old Modi and his ministerial colleagues.
PM Modi and Amit Shah have held several rounds of discussions in the last two days ahead of government formation. Other senior party leaders such as Rajnath Singh, Nitin Gadkari, Nirmala Sitharaman, Piyush Goyal, Narendra Singh Tomar, Prakash Javadekar, Ravi Shankar Prasad, Dharmendra Pradhan and Smriti Irani are also likely to join the second Modi government after being its members in its first avatar. 
The others tipped to get a ministerial berth include Sadananda Gowda, Gajendra Singh Shekhawat, Mukhtar Abbas Naqvi, Giriraj Singh, Rajyavardhan Singh Rathore, Thawarchand Gehlot, Dilip Ghosh, Jitendra Singh, Mansukh Mandaviya, Ramesh Pokhriyal Nishank, Arjun Ram Meghawal and Niranjan Jyoti. Sushma Swaraj is also likely to be part of the government.