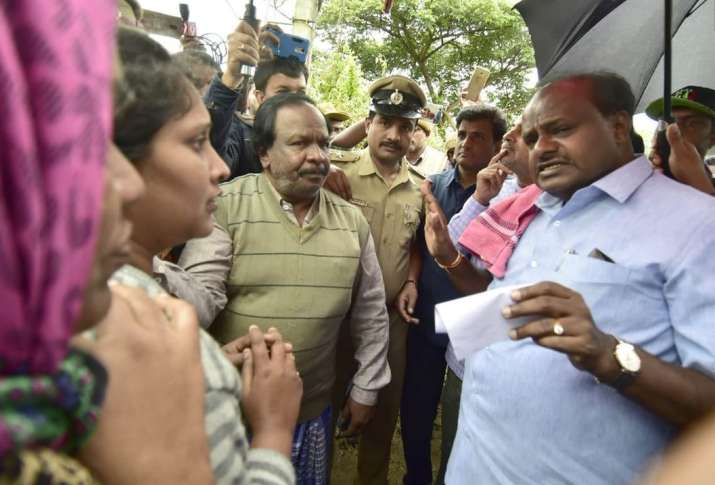 While parts of neighbouring Kerala are reeling under floods, Karnataka is battling both flood and drought simultaneously. At least 16 districts in Karnataka have recorded deficient rainfall with the government mulling declaring them drought-hit. According to data provided by the Revenue department, four districts in south interior and 12 in north interior Karnataka had received less rainfall during the south-west monsoon since June this year.
Data released by State Emergency Operation Centre said districts of Raichur, Vijayapura, Yadgir and Gadag were the worst affected following scanty rainfall. At the same time, areas like Kodagu, Shivamogga, Hassan, Chikkamagaluru, Dakshina Kannada, Uttara Kannada and Udupi received above normal rainfall and have been hit by floods. 
According to Director of the state Natural Disaster Monitoring Centre Dr GS Srinivasa Reddy, the government is in process to declare the districts which received deficient rainfall as drought hit and begin relief measures will be taken thereafter. 
However, the process for flood relief has started. Karnataka Chief Minister HD Kumaraswamy today conducted an aerial survey landslides and flood-affected areas in Kodagu for the second day. The CM also presented cheques to persons who lost property in floods in Avarthi village and inspected rain-affected areas in Somawarpet and its adjacent areas, today. The chief minister had earlier announced Rs 5 lakh compensation for people who lost their houses in floods.
Another landslide occurred on Madikeri Road in Kodagu, today. Road was already blocked due to several earlier landslides in last four days. Operation to rescue stranded people was underway. 
(With inputs from PTI)