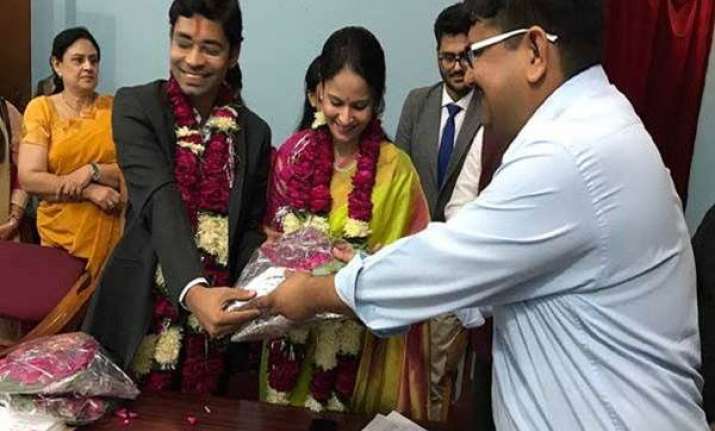 At a time when people are facing trouble organising wedding functions due to the huge cash crunch in the country, an IAS couple has set an excellent example by getting married by spending only Rs 500.
Ashish Vashishta and Saloni Sidana tied the knot in the court of the district marriage officer here.
The Rs 500 they spent on the wedding was their fee to the ADM court in Bhind, Madhya Pradesh.
The couple reached the ADM court with their respective family members on Monday and completed legal formalities of the wedding. The couple said they wanted a simple wedding.
Ashish is now posted as Sub Divisional Magistrate (SDM) at Gohad in the district while Saloni, who is an MBBS, is serving in the Andhra Pradesh cadre. 
"They wanted to get married and it was solemnised in the Additional District Magistrate (ADM) court," Bhind Collector T Ilaya Raja told PTI. 
While Ashish hails from Rajasthan, Saloni is from Punjab. 
Post marriage, Saloni may get Madhya Pradesh cadre as per the rules so that the husband and wife can be together as far as possible, he said. 
"The marriage was a simple affair. The entire staff wished them on the occasion," the Collector added.
Earlier, a Surat couple also made news after they decided to give up plans for grand marriage and got hitched by spending only Rs 500. They served the guests with 'chai and paani' (tea and water).
With PTI inputs