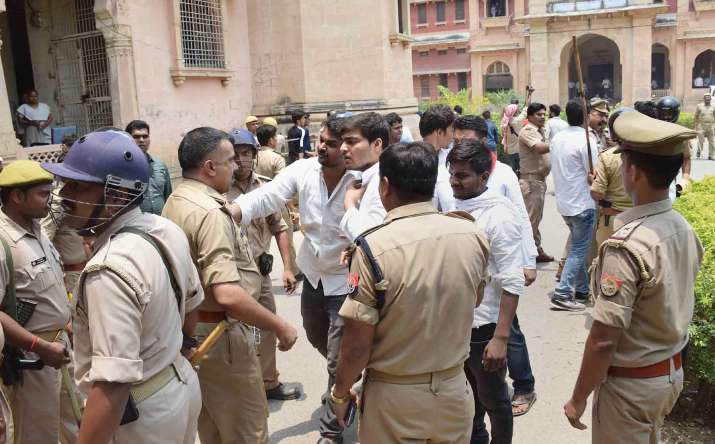 Allahabad University students resorted to violence on Tuesday after they were asked to vacate college hostels for the summer break. 
According to reports, demonstrators pelted passing vehicles with stones and set a motorcycle and a police jeep on fire before being finally chased away by the the police.
The agitation began with students gathering at the union hall to express their anger against the university order. They then came out onto the roads and staged a protest, which soon turned violent.
Unable to control the protesting mob, the police deployed the Rapid Action Force. Uttar Pradesh Provincial Armed Constabulary squads and additional personnel from nearby police stations were called in to help. They later raided the Hindu Hostel on the premises in search of rioters, but everybody had fled by then.
Earlier on Monday, the Allahabad University issued a circular to all the hostel inmates asking them to vacate the rooms allotted to them within June 11. It also said that the varsity authorities would be carrying out an eviction drive of all the hostels from June 12 onwards.
Last year too, varsity had carried out a massive eviction drive on the directives of the Allahabad High Court. That was for the first time that all the hostels of AU and trusts were totally evicted by the authorities. Despite strong opposition, authorities were able to evict all the hostels.  Back then, several residents had damaged hostel property before leaving their rooms. This time round, the proctor warned that any hostel inmate found indulging in such acts will be subject to stringent action.
WATCH FULL VIDEO: