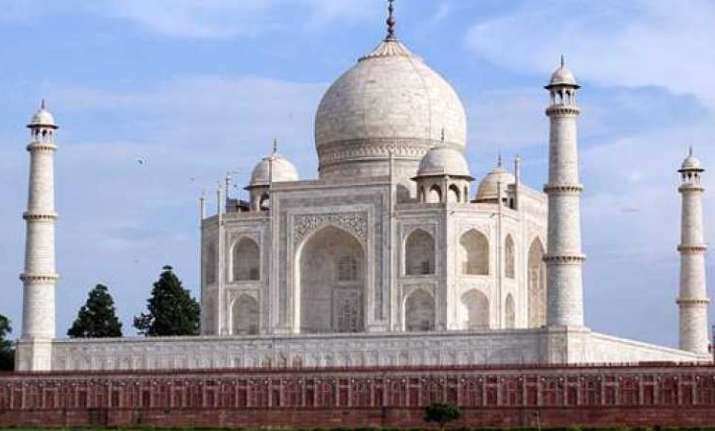 The central government on Monday said that action will be taken on 'war footing' to deal with air and water pollution in and around the Taj Mahal. The move came after the government was rapped by the Supreme Court over the condition of the world-famous 17th century Mughal monument.
Union Transport Minister Nitin Gadkari chaired a high-level inter-ministerial meeting to discuss the steps to tackle yellowing of the Taj Mahal and controlling Yamuna pollution were discussed.
The meet was also attended by Uttar Pradesh Chief Minister Yogi Adityanath, Union Environment Minister Harsh Vardhan and Culture Minister Mahesh Sharma and state Minister Satyapal Singh.
Addressing a press conference, Gadkari announced that the Centre has decided to adopt several measures for preserving the heritage such as introduction of green fuels, e-buses, opening more ethanol industries and cleaning of river Yamuna.
"To deal with air pollution the use of bio fuel, green fuel and electric vehicles will be popularised in Agra," he said.
"An ethanol policy will be introduced for Agra which will include conversion of bio mass to ethanol during the crop burning season and use of ethanol in auto rickshaws combined with introduction of mass rapid transport system as a part of policy of zero tolerance to pollution," he added.
To deal with the water pollution in the Yamuna, Gadkari said that the cleaning of the Yamuna falls under the Namami Ganga project and several projects are already being taken up to make the river pollution free.
"(A total of) 36 projects of Rs 4,000 crore on the river Yamuna have been identified and it is hoped that the DPRs (detailed project reports) will be completed in next few months. Already 11 projects have started in Delhi on the river Yamuna and the tender for the 12th project will be finalised soon," he said.
To look into the issue of industrial pollution, a committee headed by Union Environment Secretary CK Mishra will be formed, which will also include experts from NEERI, IITs and other environment-oriented organizations.
"The committee will study on case to case basis and take a tough stand on hazardous industries in the vicinity of the Taj Mahal," the minister said.