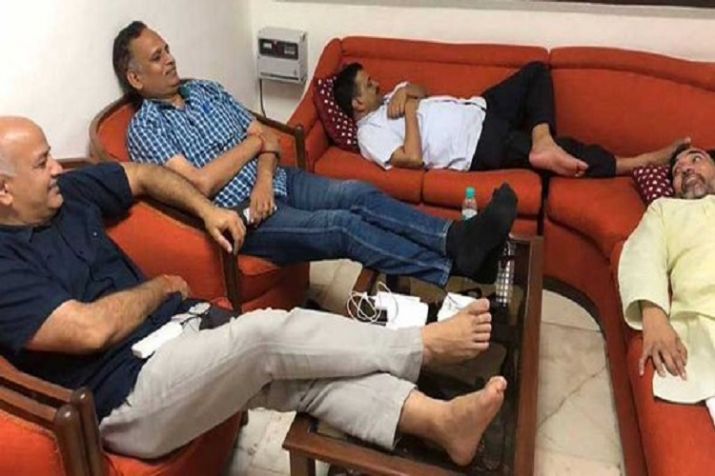 The sit-in protest by top AAP government ministers at the office of Delhi Lieutenant Governor Anil Baijal's house entered its third day on Wednesday. Deputy CM Manish Sisodia today joined his colleague Satyendar Jain for a hunger strike. Sisodia, Jain and CM Arvind Kejriwal have been camping at L-G's office since Monday demanding Baijal to issue notification to IAS officers to end their 'strike', action against those who have struck work for 'four months'. 
"Good morning to all Delhiites. Our struggle against those stopping us in development of Delhi continues. We need your support," Kejriwal tweeted in the morning.
 "Is it possible for IAS officers to return to work without green signal from PMO (Prime Minister's Office)? Aren't IAS officers merely tools being used by Modi govt to scuttle good work being done by Delhi govt?" he said in a series of tweets from L-G office.
दिल्ली वालों के कामों में पैदा की जा रही अड़चनों को दूर करवाने के लिए मनीष सिसोदिया जी ने भी अनिश्चितक़ालीन अनशन शुरू किया।

सत्येन्दर जी का अनशन जारी है। आज उनके अनशन का दूसरा दिन है। https://t.co/acbBwhUZ2m

— Arvind Kejriwal (@ArvindKejriwal) June 13, 2018
Kapil Mishra's 'song attack' on Team Kejriwal
Meanwhile, rebel AAP MLA Kapil Mishra released a video-song slamming the Kejriwal government for his 'theatrics' while neglecting the real issues that Delhi is facing. 
"Sofe pe pada hua hai Kejriwal dekh lo, paani kami se behaal Dilli ko dekh lo," goes the lyrics of Mishra's song. The song apparently refers to the viral photo which shows Kejriwal resting on a sofa along with his other cabinet collagues inside the L-G office.
Earlier, Kejriwal released a video from L-G office and said AAP ministers had "no option" but to stage a sit-in at L-G's office as Lt Governor Anil Baijal was not paying heed to the Delhi government's demands 'despite several requests'. 
It was the first time in the history of Delhi that a chief minister and his cabinet colleagues have spent a night at the L-G's office in protest to press for their demands, sources said. 
The move drew criticism from the Delhi BJP unit, which termed the sit-in as a "mockery of democracy". 
"Making mockery of Democracy, No Work only Drama (sic)," Delhi BJP chief Manoj Tiwari said on Twitter. 
WATCH: Team Kejriwal's protest at L-G office enters third day