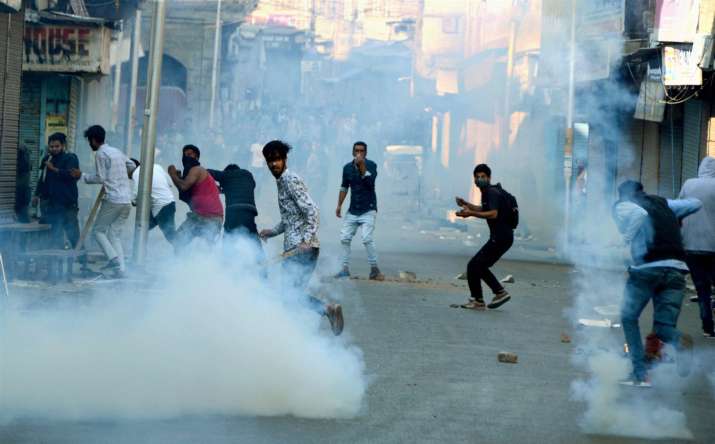 Social media is being used to spread 'braid chopping' rumours in Jammu and Kashmir which is resulting attacks on innocent men. There have been over 100 incidents of braid chopping in the Valley during last one month, and many residents believe that security forces are behind these incidents. Social media, especially WhatsApp, are being used to mobilise people to attack innocent people who have nothing to do with braid chopping incidents. 
Just today, two incidents came out of the valley where innocent persons, including a "mentally challenged" man, were beaten bloody after mobs suspected them to be braid choppers. 
In the first incident, a mob branded a "mentally challenged" man as "braid chopper" and tried to immolate him and run him over with a tractor. The police arrived in time to rescue the man, identified as Wasim Ahmad Tantray, but not before he was already beaten to pulp by the angry mob.  
In another incident, a mob tried to drown a person in the Dal Lake in Srinagar. The man was neither a tourist, nor an outsider but was a local Kashmiri who was later identified as a policeman. 
As many in the Valley already believe that police are behind the braid chopping incidents, all it took a rumour to brand the special police officer of the Jammu and Kashmir Police as a "braid chopper". 
There have also been several protests by people in Kashmir, leading to clashes with the security forces. Police have vehemently denied allegations that any member of the state police or any other security force is involved in these incidents.
There have been over 100 incidents of braid chopping in the Valley during last one month, but not a single culprit has been arrested so far. 
The general scare among women folk in cities as well as rural areas of Kashmir has given rise to vigilante mobs who keep vigil and end up beating innocent people on mere suspicion.
The police have announced a reward of Rs 6 lakh for information leading to arrest of braid choppers. 
Chief Minister Mehbooba Mufti has termed braid chopping incidents as "attempts to create mass hysteria."
"Braid chopping incidents are attempts to create mass hysteria and undermine the dignity of the women in the state. Government will ensure steps are taken to find the motives behind these attacks," she said last week.