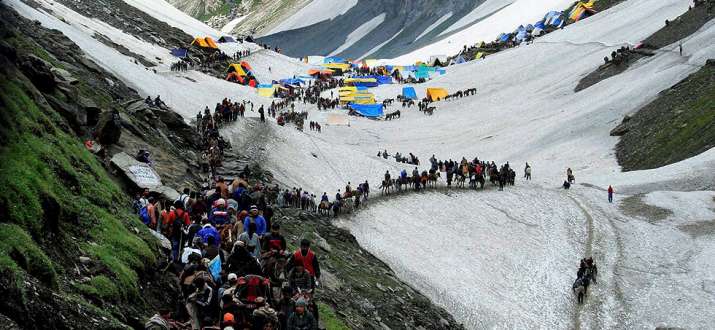 Srinagar: The annual Amarnarh Yatra to the Himalayan Hindu cave shrine in Jammu and Kashmir will begin on July 2 and conclude on August 24, it was announced today.
The schedule and arrangements for this year's pilgrimage were discussed in a meeting, chaired by Governor N.N. Vohra, who is also the chairman of Shri Amarnathji Shrine Board (SASB) at the Raj Bhavan here on Monday.
Announcing the schedule after the meeting, SASB CEO P.K. Tripathi said that 7,500 yatris per day are permitted to undertake the yatra along each of the two routes, via Baltal and Pahalgam.
It was also informed that, based on the weather conditions, the access control gates at Domel and Chandanwari will be closed at 11 a.m. every day, after which no pilgrim will be allowed to proceed on the tracks. He said the pilgrims must avoid staying at the shrine for the night as the temperature drops sharply after sunset.
Accordingly, the pilgrims will not be allowed to proceed beyond Panjtarni Camp after 3 p.m. every day.
Tripathi said the advance registration which commenced on February 29 through 432 bank branches of Punjab National Bank, J&K Bank and YES Bank spread over the country is proceeding smoothly and, as of now, 143,462 people have enrolled. 
The list of bank branches authorised to undertake advance registration is available on the shrine board's website www. shriamarnathjishrine.com, which has also procedure and guidelines for securing advance registration, group registration and registration of pilgrims from outside the country.
Tripathi again appealed to all the intending pilgrims to obtain advance registration, in their own interest, to avoid inconvenience in undertaking the yatra and stressed the need to obtain compulsory health certificate (CHC) from the authorised government doctors or the designated medical institutes. The statewise list of authorised doctors is also available on the website.
He further informed that in order to educate, inform and familiarise the intending Yatris regarding the do's and don't's and health advisory, the board has got these printed as pocket booklets which are being provided free of cost to each pilgrim at the time of registration through the various bank branches.