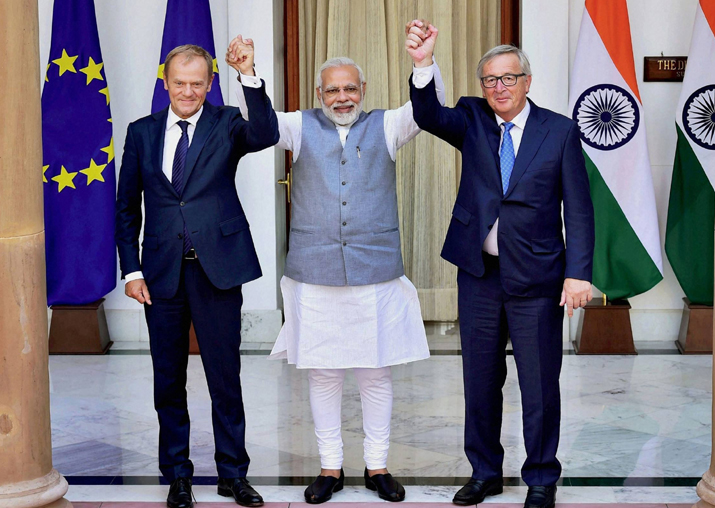 India and the European Union on Friday agreed to cooperate in the fight against terrorism while deciding to resume talks on a free trade agreement at the 14th India-EU Summit here. In a joint address to the media along with European Council President Donald Tusk and European Commission President Jean-Claude Juncker after delegation level talks here, Prime Minister Narendra Modi said that both sides agreed to cooperate on global issues and work together on climate change.
On terrorism, both sides agreed to strengthen cooperation for 'decisive' action globally proscribed terrorist individuals and groups, including Pakistan-based Hafeez Saeed, Mumbai attacks mastermind Zakiur Rehman Lakhvi, Dawood Ibrahim, LeT, JeM, Islamic State and their affiliates.
The EU also joined India in condemning the terror attacks in Pathankot, Uri, Nagrota, Anantnag and Srinagar alongside assaults in Paris, Brussels, Nice, London, Manchester and Barcelona. The two sides also recalled the 2008 Mumbai attacks and called for the perpetrators to be brought to justice.
The joint statement on cooperation in combating terrorism bracketed Pakistan-based groups such LeT, JeM, Haqqani Network and Hizbul Mujahideen along with the Islamic State and al-Qaeda.
"The leaders agreed to strengthen cooperation to take decisive and concerted actions against globally proscribed terrorists and terror entities, including Hafeez Saeed, Zaki-ur-Rehman Lakhvi, Dawood Ibrahim, Lashkar-e-Tayibba, Jaish-e-Mohammad, Hizb-ul-Mujahideen, Haqqani Network, Al Qaeda, ISIS (Da'esh) and their affiliates," the statement said.
"We agreed on fighting against terrorism together and increasing cooperation towards it. Our multi-dimensional relations and strategic partnership is of prime importance," he said, adding that relations between the two sides had been reinforced following the 13th India-EU Summit at Brussels last year.
Stating that the EU continues to be India's largest trading partner, the Prime Minister said that the 28-nation bloc was also one of the largest investors in India. He expressed happiness that the European Investment Bank will help member countries of the India-initiated International Solar Alliance (ISA) to implement solar energy projects.
Tusk said India and the EU were two of the world's largest democracies and both sides had agreed to develop the political dimension of the relationship.
"We adopted a joint declaration on counter-terrorism to deal effectively with the threat posed by foreign terrorist fighters, terror financing and arms supply arms supply. We agreed to cooperate in security in the Indian Ocean region and beyond," Tusk said.
He said both sides also addressed the Rohingya refugee crisis in Myanmar and called for the full implementation of the recommendations of the Advisory Commission on Rakhine State.
Tusk stressed that a free trade agreement between India and the EU was of importance.
Juncker pointed out that the EU was India's largest trading partner accounting for 13 per cent of India's overall trade.
Stating that it was time for a free trade agreement, he said talks on this would resume once conditions were met.
India and EU also signed three agreements following Friday's talks: between European Commission and the Science and Engineering Research Board (SERB) for Indian researchers hosted by the European Research Council grantees in Europe; finance contract of Bengaluru Metro Rail Project Phase-2-Line R6 for 300 million euros out of total European Investment Bank (EIB) loan of 500 million euros; and a joint declaration between the Interim Secretariat of the ISA and the EIB.
Earlier, External Affairs Minister Sushma Swaraj called on Tusk and Juncker here.