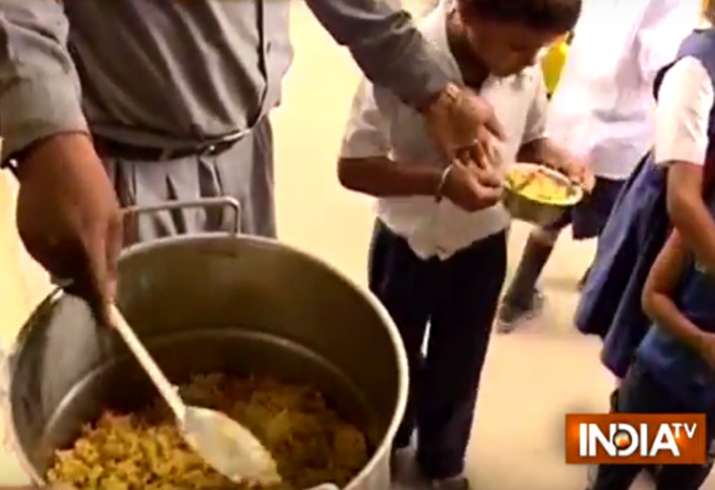 Millions of kids in India go hungry or do not get enough nutrition. The government, in its efforts to improve the nutritional status of school-going children, runs Midday Meal Scheme. 
There are many Non-Government Organisations (NGOs) operating in the country which help the government in its efforts to provide healthy meal to school children. One of these NGOS, Akshaya Patra, is doing a commendable job to provide quality food to children.  
Akshaya Patra began operating on a Public-Private-Partnership model in 1997. In 2000. The Foundation supplied food to 1,500 children in 2000 and has grown into an organisation that feeds over 15 lakh school children now. 
While there are many organisations that help the government in its Midday Meal Scheme, Akshaya Patra stands out for its hygiene and professionalism without working for a profit. 
Impressed with its work, many state governments have roped in the NGO to provide the mid-day mean in their schools. 
A team of India TV visited Akshaya Patra Foundation in Lucknow. The food here is prepared with keeping in mind all the hygiene practices. 250 people work here to prepare the food and supply it to different schools in Lucknow. 
One of the schools where the food is supplied is Mangla Devi Junior High School. Our team visited the school to take a feedback from the students there.  
The students in the school seem satisfied with the quality of the food supplied. 
Durga Laxmi, the principal of the school said that children have never about the quality and enjoy the food supplied by Akshaya Patra.
MP Das, the chairman of Akshaya Patra said the organisation has won praises from former US President Bill Clinton who once visited its kitchen and also saw the distribution system. 
Clinton was very impressed with the quality control, Das said. 
The organisation on its website says that it works toward a vision that "No child in India shall be deprived of education because of hunger."