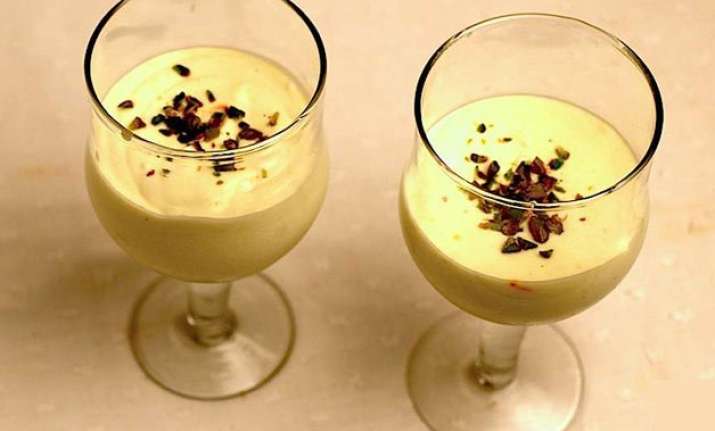 As summers are approaching the attempt to fight back the heat strokes is also beginning. Each one of us finds it really hard to cope with summers and try our best to avoid it.
But seeing our busy schedules, we find it really hard to escape going out in summers, be it for a school kid or a working professional.
We always try to cool our thirst in summers by going for cold drinks, ice creams and even shakes.
But these are the pretty usual stuff to opt for and even for serving to guests.
So why not make this summer a bit different with "Thandai Mousse" that will not only soothe your summer stroke, but will also make you cherish it thoroughly.
Ingredients
Thandai syrup
Agar-agar (china grass)
 
Whole milk
Sugar
Whipped cream
Lemon juice
 
A few pistachios and some kesar for garnish
Also Read: Quick recipe- Prepake coconut ladoo in 9 easy steps
Method
1. Take 10gms of agar agar along with half cup water and milk each in a pan and boil it while stirring continuously.
2. Add 2 tbsp of sugar and thandai syrup each.
3. Cook the mixture on a medium flame while stirring continuously.
4. Now strain the mixture using a sieve and transfer the mixture into a steel bowl.
5. Cool the mixture by placing the bowl in a deep vessel filled with ice-cubes till it gets thick.
6. Whip the mixture continuously while it is in the ice-cube vessel to avoid any lump formation.
7. Add 1 cup whipped cream and fold gently.
8. Add ½ tsp lemon juice and fold gently.
9. Now pour the mixture into 2 individual bowls and refrigerate for 2 to 3 hours.
10. Garnish with pistachios and kesar and serve chilled.