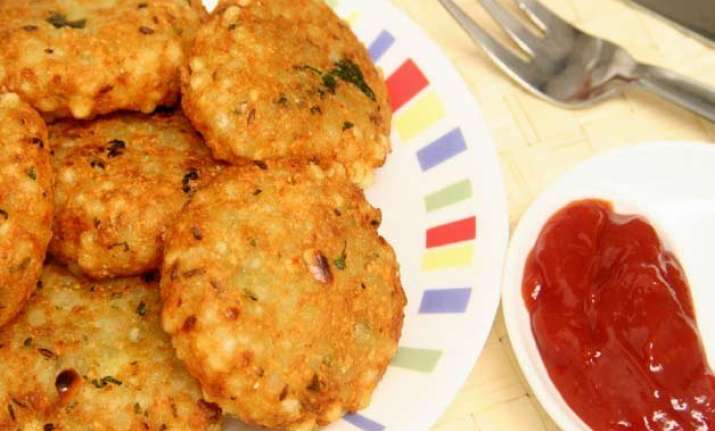 As Navratras are going on, it is the time when most of the people say no to onion and garlic and religiously turn to healthy food for their fasts.
Keeping the fast and avoiding all your favorite delicacies is not an easy task, and that too when you just can't take your mind off from the fast food especially during the snack time.
That is the time when you really crave for those delicious snacks but all you could do is wait for your fasts to get over.
But now you can enjoy the snack time during fasts as well, as we bring you the mouth-watering recipe of "Sabudana Vada".
Ingredients:
1 cup of Sabudana
2 cups of 2 large boiled and mashed potatoes
1/2 cup Peanuts
1 tsp Cumin (jeera)
2-3 thin sliced green chillies
Pinch of Sugar
Lemon juice
Rock salt
Method:
1. Wash and soak Sabudana overnight with just enough water to cover it.
2. Drain the water 15-20 min before use and ensure that there is no water left in Sabudana.
3. Dry roast peanuts and chop them coarsely before grinding them.
4. Mix all the ingredients together – Sabudana, mashed potatoes, peanut powder, cumin, pinch of sugar and green chillies. Add lemon juice and rock salt as per taste.
5. Now shape the mixture like round vadas.
6. Deep fry the vadas and manage the temperature accordingly.
The vadas are ready to be served and you can enjoy it with ketchup or chutney as you like.