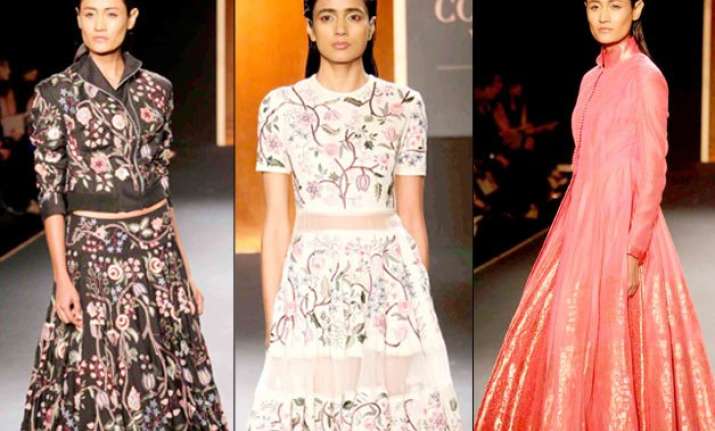 New Delhi: Fashion designer Rahul Mishra kicked off day two of the Amazon India Couture Week 2015 (AICW) with an elegant collection that showcased hand-embroidered floral patterns to sheer handloom textiles that created a harmonious blend of myriad hues.
The collection, which was called "Tree of Life", began with a very mellow-sounding, modern classical soundtrack, and created a profound atmosphere at the venue.
The designer, who won the Woolmark Prize last year, said the aim was to push the craftsmanship to the limit and showcase something exciting.
"From the time I won the prize, I missed India. So we are pushing the craftsmanship to the limit. The work we showcased in Paris was couture of a higher level. In that way, we never had to justify the tag couture", Mishra told IANS.
"We were also retailing clothes from London, Paris and other top cities. In that way, for us to do India couture work was a very natural progression. It's just a tag, "he added.
Highlighting the idea behind the collection, Mishra also said that "it is something never done before".
"It was effortless, easy to do it. What we are bringing right now is something never done before. It's very exciting to us. We have got things like jumpers, which are western but we try to have Indian elements with the embellishments," he said.
As the show progressed, Mishra's exquisite designs truly came alive with the changing hues and patterns. The music and ambience metamorphosed the visual impact of the designs into a phantasmagorical zone.
Subtle colours, with lighter and graceful, yet striking designs and innovative craftsmanship was on display throughout the show.
A blend of Indian and western designs, the collection had ravishing and chic lehangas and gowns on display. Coupled with the mystical ambience created in the background, Mishra's collection shined throughout the show.
Overall, the collection showcased contemporary elements for the new-age bride with its deftly created hand-embroideries and sharp tailoring.