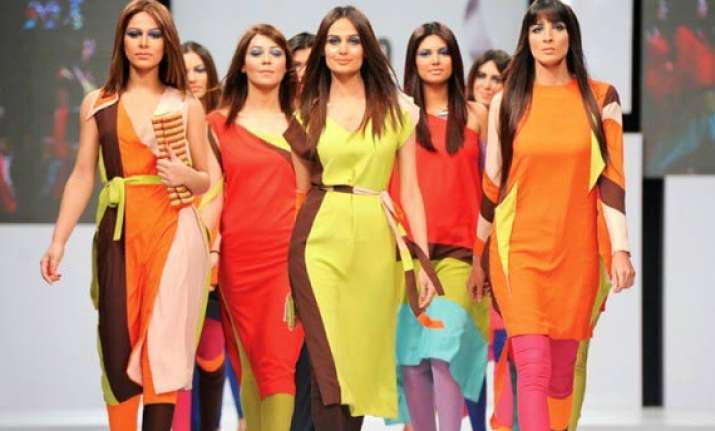 Lahore: There's a lot to look forward to at the seventh edition of the PFDC Sunsilk Fashion Week 2014 (PSFW). From pret, couture and high-end street lines to showcasing upcoming talent to women's empowerment - all this is set to rule the ramp during four-day fashion extravaganza starting here Thursday.
With the seventh consecutive pret-a-porter fashion week, PFDC (Pakistan Fashion Design Council) is set to strengthen its commitment to three distinct platforms with separate showcases by luxury or prêt designers, high-street brands and textile houses.
Focusing specifically on the region's long hot summer months, all the shows will define and present trends for the year.
Designer Faryal Aftab and Moeed Yousaf, who will showcase a collection under their brand Muse, are excited.
"This collection is all about classic evening wear designed with stunning luxurious fabrics that will continue to look elegant for years to come," they said in a statement.
The designers will introduce a new range of luxe fabrics, exclusively sourced from top Italian and French houses at the fashion gala.
Sehyr Saigol, chairperson of the executive committee of the PFDC, said the fashion week, a key annual event for Unilever, provides "great opportunity to take contemporary fashion into the homes of the Pakistani consumers".
"We recognise that Pakistan's fashion industry is now a major player in contributing to the development journey of the country and we are delighted that our brand Sunsilk is a part of such a fantastic effort," said Saigol.
Big names like Akif Mahmood, Ali Xeeshan Theater Studio, Deepak Perwani, Élan, Fahad Hussayn, House of Arsalan Iqbal, HSY, Karma - Pink, Khaadi Khaas, Maria B., Mohsin Ali by Libas, Muse, Nickie Nina, Nida Azwer and Rizwan Beyg will bring a plethora of luxury prêt collections on the ramp.
To promote young talent, the PFDC will present the Rising Talent showcase comprising five emerging designers in association with their banking partner.
The PFDC has also collaborated with the United Nations for a unique project - PFDC for Women Empowerment with UN - where a panel of designers across Pakistan was invited to design and produce world's most universally worn apparel, the t-shirt, engaging regional craft in the form of colours, embellishments and embroideries.
The t-shirts showcased at PSFW will later be auctioned in Islamabad by the United Nations and the PFDC, whose common and long-term goal is to raise awareness about the need to empower women from rural areas.
In terms of new trends and fashion, the PFDC has expanded its high-street show platform to three days where Arooj Ahmed, Bareeze Man, BeachTree, Chenone's Pareesa by Sahar Atif, Generation, Gul Ahmed, Ittehad, Kayseria Pret, MK Nation and Roodaba Omar will highlight contemporary affordable ready-to-wear apparel.
The last day will comprise Textile Mill Voile shows featuring Five Star Textile Limited, Lakhany Silk Mills, Nimsay Redefining Style by Nimra Textile and Warda Prints.
All participating brands and designers will have a dedicated stall at the PFDC's popular state of the art exhibition area, within the main runway show venue.
When it comes to buyers, this edition will welcome regional buyers too apart from some international players.