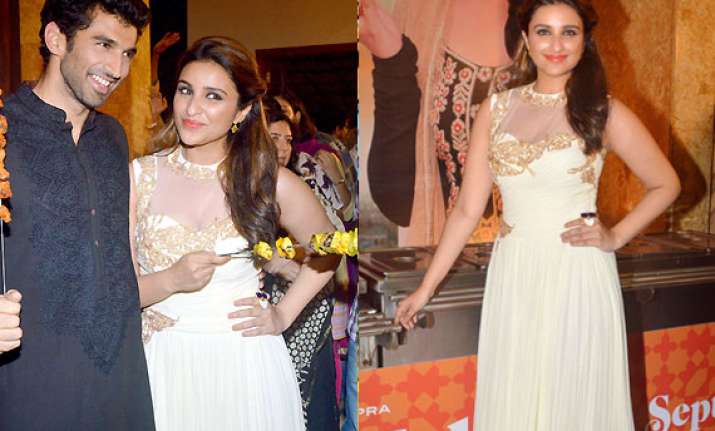 Bollywood hottied Parineeti Chopra looked gaudy and unimpressive as she flaunted her newly achieved fab figure at the launch of her upcoming movie Daawt-E-Ishq's trailer.
Definitely missing out a step this time, everything about Parineeti's look was blingy and garish with overthrow of shimmering gold, all over her look; on dress, footwear and even her ring.
The actress arrived with her co-star Aditya Roy Kapur in an embellished maxi gown by Diva'ni . The dress was however good but Parineeti's choice of putting up a plain parted hairdo didn't quite suit the look; even her choice of equally dazzling footwear disappointed us.
The actress chose to finish off her look with jewellery by Sapphire something, which was quite over the top.
Parineeti also showed off her unmatched blue-beige ring. We were not impressed at all with her styling for this event; she could have done much better with the dress as after so many stunning appearances lately, we expected something better from her.
The actress is also gearing up for her next project 'Kill Dill' along with Ranveer Singh.