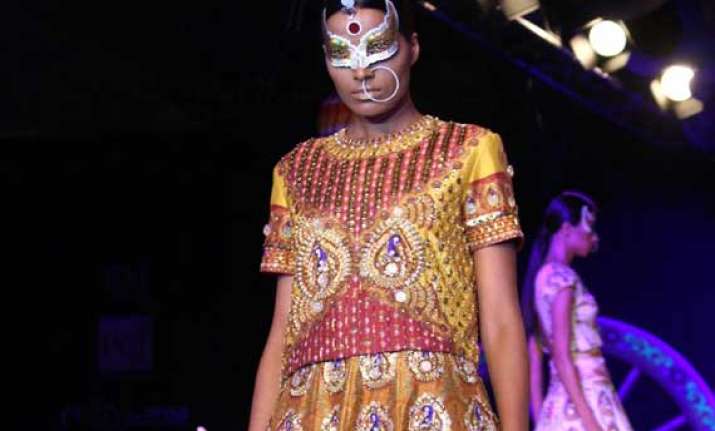 New Delhi, Aug 4: Revisiting the past helped Manish Arora find his inspiration for a new bridal collection, which was high on Indian street art, digital prints, and gold colour and enlivened the stage at the PCJ Delhi Couture Week 2013.
From the stage to music to clothes, everything about his show was purely Indian, clearly explaining the title of his collection - Indian by Manish Arora.
While orange, pink, green, blue and black were recurring colours, gold remained the focal point of attention in most of his pieces.
Interestingly each garment had been hand-crafted. Stones, metals, sequins and crystals were used to create lehengas, bandhgalas, saris, churidars with kurtas and anarkali suits. Luxury fabrics like silk brocade from Varanasi as well as chiffon were used.
"I was trying to do an Indian show and I was trying to go back to my past - how I was 10 years ago. I was always inspired by goddesses and kitsch," Arora told reporters Saturday after successfully wrapping up his show here.
On skilfully infusing colours to his collection, he said: "Somehow I don't think I am using colours when I am using colours... Maybe I am weird… I can put red, blue, yellow, orange, green together and it looks convincing to me."
There was everything Indian about his collection barring the dupattas. Most of the pieces were without this essential traditional long scarf. Those who wore it, just wrapped it around the neck and let the ends flow freely on either sides of the shoulder. Even the sari pallu was worn in a similar way.
But the stage that was created for his show, organised by the Fashion Design Council of India, reflected rural India beautifully.
The stage had three levels - the top most was surrounded by ornamented swans, second by pink hearts and third by lotuses. Elephants, wheels and colourful pots which gave an impression of pillars, lent an Indian touch to the entire room. Anyone who is familiar with his work, could make out that the stage was decorated just for Arora.
In short, it was a riot of colours.
"I took elements from my house. I've the same swan in my house and lotus also," said Arora.
After the stage was set and everyone was placed, women wearing oversized nose rings, subtle Mohawk style maang tika (traditional head ornament) and goddess Durga-inspired masks matching their Indian wear, glided onto the ramp.
The music played in the background happens to be among Arora's favourites.
"It's from 'Gangs of Wasseypur," said Arora who used songs like "Keh ke lunga" for his show.
"It's my favourite movie from last year. I think it's a brlliant film I've seen in the longest time in India... music has been purely used as it is without any mix," he added.