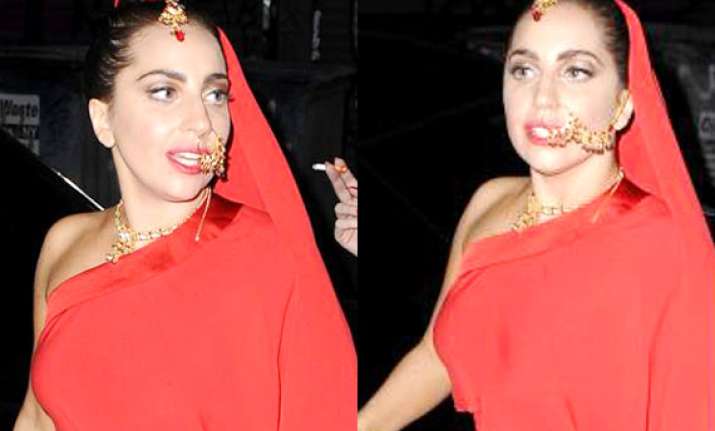 New Delhi: Whatever she wears becomes a trend, be it dress made out of red meat, or even shimmering nude pants.
Her weird fashion ensembles have already brought her in the limelight, but this has never stopped her from flaunting more.
Lady Gaga, who is often on the watch list of fashion police owing to here outrageous wardrobe choices has once again managed to create a buzz but this time not for her racy outfit.
The "Poker face" singer stepped out of her apartment flaunting a red crop top with hanging fabric detail that was pinned to the back of her hair to give it a duppata feel teamed up with extravagant Indian jewellery.
Gaga was seen dressed up as 'Indian bride' in a red ensemble. She pepped up her desi dress with heavy chunky Indian jewellery that included a maang-tikka, nath neckpiece and a delicate haath-phool/hand-harness.
As exception to her past appearances Gaga kept her makeup minimal and her fans were able to see her so clear. She caught our attention the way she draped scarf in Indian style.
The Indian 'dupatta' looked gorgeous as she flaunted her toned neck line also giving an ample view of her mid-riffs.
We love the way she Indian-ized her western look and no doubt she looked gorgeous. Her perfect combination of oomph and glamour spread magic with her appearance.
It is not the first time Gaga has opted for Indian look. In past too she has flaunted her curvaceous body in Indian ensembles.
Whether it's her Oscar's Indian look for 'Bollywood princess' attire in recent, Indian-ness can always be seen in Lady Gaga's style.