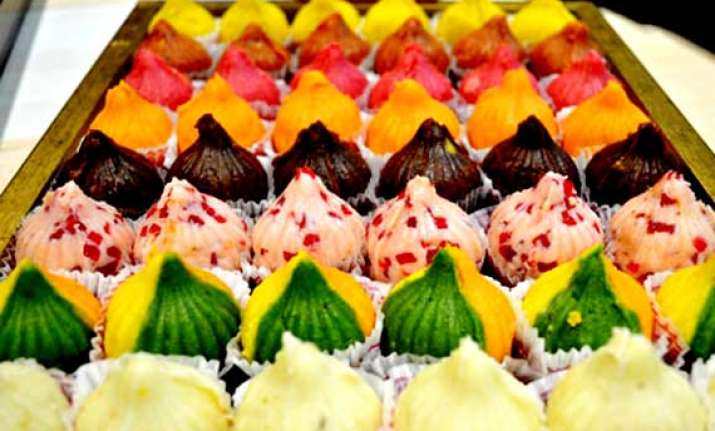 New Delhi: Ganesh Chaturthi, one of the biggest festivals with colour, jollification and charm, is almost here.
With paan-flavoured modaks, chocolate modaks, strawberry modaks, and even modak-flavoured cakes, the ongoing 11-day Ganesh festival is witnessing a unique spread as people seek variety in their sweet offerings to the Elephant God.
No doubt that traditional modaks are still the most popular but some quirky twists are making this sweet offering more delightful. The trends are changing, and the younger generation wants to try new varieties of modaks.
  Along with the regular mithai modaks being sold in the city, folks are getting innovative with the dumpling. You now have modaks in almond, anjeer, lychee as well as fusion flavours too. Here's a look at the new ways to have modak...
 People are trying to outdo the grandeur while preparing the modak with each adding a fun twist to it. You can add tutti fruity, pista, chocolate chip and strawberry as filling in modak.
 These are simple modak with the use of cocoa, cashew nuts, honey and biscuit stuffed into a traditional modak shape.
The most popular modak flavour among people is honey nut crunch modak. All you have to do is mix the crushed nuts with honey and fill the mixer as you do in traditional modak.
During the Ganesh worship ceremony, known in India as Ganesh Chaturthi the puja always concludes with an offering of twenty-one modaks to the deity as prasad. Modaks made with rice flour shell are preferred for this purpose, however, wheat shell version are also used.
Innovative recipes for modaks have also been created. These include banana nachni modak, motichoor modak and chocolate modak.
The traditional Ukadiche Modak-The sweet filling inside a modak is made up of fresh grated coconut and jaggery, while the soft shell is made from rice flour, or wheat flour mixed with khava or maida flour.
The dumpling can be fried or steamed. The steamed version, called ukdiche modak, is eaten hot with ghee.
Modak lollipops! Yes, now you can taste the traditional modak in form of lollipop too. It's the 'modak cake pop' in different flavours, which resembles a lollipop.
You can present someone with a single pop or even a dozen and create a modak cake pop bouquet.
To make the modak pop, just mix your cake with some frosting. Set in the modak moulds and cool it. Once it's semi-set, take a few sticks and place each one in a modak.
Dip it in melted chocolate and add edible coloured sprinkles on the top.
We are sure after reading this article you must have got different ideas to make your festival more tasty and mouth watering.