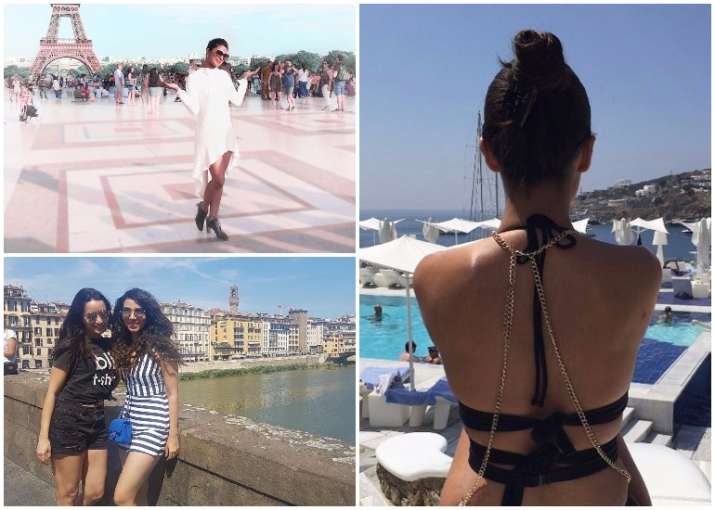 Travelling is not just a hobby. It's a way to find your inner self. When you're at a new place, amid new culture and people, your mind deviates all of its energy to learning/observing something new instead of pondering on the life's problems. In fact, travel goals have become one of the most trending hash tags on Instagram as well as on Twitter. People are packing their bags and leaving their comfort zones to explore a never-before place. Our Bollywood celebrities are also bitten by a travel bug. Have a look at Priyanka Chopra, she's busy enjoying the serene beauty of Paris dressed in all-chic ensembles. 
Priyanka Chopra 
The wandering superstar Priyanka Chopra was in Paris to attend Couture week for Armani Prive. The actress is busy posing for the camera in front of the iconic Eiffel Tower, dressed in a white shift dress. 
She also posed with Isabelle Hupert and Sophia Loren at the event. She's living a Europe dream for now. 
But we all know what a travel aficionado Piggy Chops is. For past few year, she've been travelling, either for work or for leisure.  Last month, she shared pictures from her 'Prague Diaries', showing colourful baroque buildings and the dark night sky. 
Some more of her Prgaue Diaries.. 
Also Read: Social media trolling continues! Priyanka Chopra trolled on Instagram for getting a lip surgery again
Krystle D'Souza 
The gorgeous TV actress and her love for travelling is not hidden from us. Recently she posted a picture from her trip to Zaanse Schans, a windmill city. We can see the windmills in the backdrop, adding the fairytale touch to the photograph. 
She also shared a video which shows her cycling in Vondel Park, Amsterdam, with her bestie. 
If you want to get some cues on 'How to dress for a chilly vacation', Krystle is all here. Sample her picture from Prinsengracht, Amsterdam. 
Also Read: 5 Bollywood films that inspires us to pack our bags and head for a holiday!
Shraddha Kapoor 
The Aashiqui girl is also fond of travelling. Whether its her work that takes her places or her wanderlust, she never forgets to click a picture for her fans. Here's how she's rocking the easy laid-back look in Italy with her bestie Eshanka Wahi. 
Shraddha and Eshanka in these travelogues are giving some serious 'bestie goals'. Isn't it? 
Malaika Arora Khan 
Malaika Arora Khan's beachy romance is seriously a visual treat for her fans. The 43-year-old actress is popularly known for her well-maintained physique and glowing skin. Look how ravishing she looks in this bright orange coloured swimsuit. 
Maldives remains the constant on people's travel wish list. It is famous among travel enthusiasts for its beaches, lagoons and extensive reefs. Here's how Malaika is enjoying her nephew Ahil's birthday in Maldives with family. 
Bitten by travel bug? Pack your bags, already! 
For more related stories, visit Travel section under Lifestyle category.