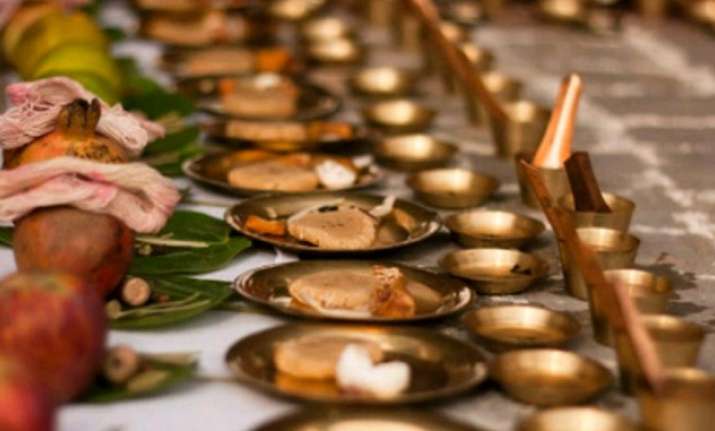 Pitru Paksha which is also known as Pitri Paksha is a 16-lunar day period. During this time, Hindus pay homage to their ancestors through a set of shradh prayers and offerings. It occurs in the lunar month of Bhadrapada beginning on the full moon day or the day after. Hindus believe that performing shradh rites during this period helps the deceased's soul attain salvation from the vicious circle of mortality of life. It is also referred to as Pitri Pokkho, Sola Shraddha, Apara Paksha and Mahalaya Paksha. This period is also considered inauspicious by Hindu community to carry out any auspicious work. In 2017, Pitru Paksha begins on September 5 and will end on September 19. 
Significance of Pitru Paksha 2017 
According to Hindu beliefs, the souls of three preceding generations reside in Pitru Loka, which is a sphere between earth and heaven. The realm is ruled by Yama, the God of Death. When a person of the next generation dies, the first generation moves to heaven and finally achieves salvation. Hence, the three generations of Pitru Loka are given shraddha rites. 
Story Behind Pitru Paksha 
It is believed when Karna, the great warrior of epic Mahabharata, died during the war, his soul transcended to heaven. He was offered real gold and precious jewels as food but he needed real food to eat. He went to Lord Indra and asked why he was being given gold as food. Indra confers that Karna donated gold and jewels all his life, but he never donated food to his ancestors. Karna was unaware of this ritual. To reverse the damage, Karna was allowed to visit earth for a fortnight so that he could perform the Shraddha rituals which he omitted while he was alive. He donated food and water. Henceforth, this period is known as Pitru Paksha. 
Pitru Paksha calendar 2017
5 September (Tuesday) – Purnima Shraddha
6 September (Wednesday) – Pratipada Shraddha
7 September (Thursday) – Dwitiya Shraddha
8 September (Friday) – Tritiya Shraddha
9 September (Saturday) – Chaturthi Shraddha
10 September (Sunday) – Maha Bharani, Panchami Shraddha
11 September (Monday) – Shashthi Shraddha
12 September (Tuesday) – Saptami Shraddha
13 September (Wednesday) – Ashtami Shraddha
14 September (Thursday) – Navami Shraddha
15 September (Friday) – Dashami Shraddha
16 September (Saturday) – Ekadashi Shraddha
17 September (Sunday) – Dwadashi Shraddha, Trayodashi Shraddha
18 September (Monday) – Magha Shraddha, Chaturdashi Shraddha
19 September (Tuesday) – Sarva Pitru Amavasya
​For more Lifestyle news and updates, follow our Facebook page