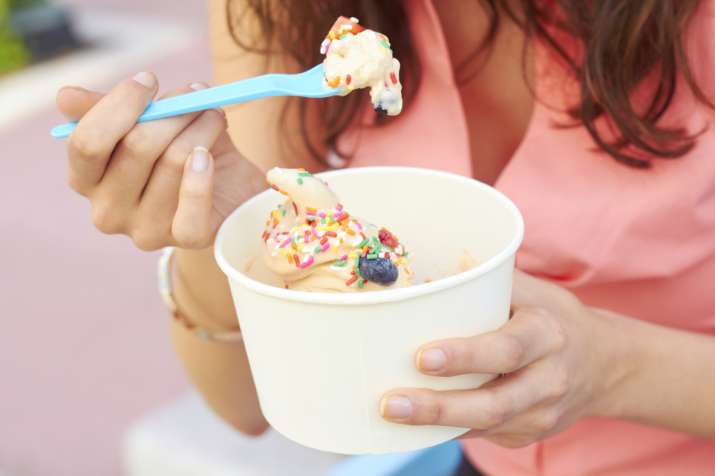 As much as you may love ice-cream it isn't amazing for your health. Each scoop of ice-cream comes with its share of health problems, which is why it is best to switch to frozen yogurt.
Frozen yogurt does the task of calming the cravings for ice-creams without hurting your health. Here are five reasons to give you a better idea about this switch:
1. It is undeniably fat-free: When compared to ice cream, frozen yogurt is technically a healthier option with fewer calories and half the fat of ice cream. The flavour of ice cream depends on its fat content, which means higher the quality, the more will be the fat content. On the contrary, the name frozen yogurt suggests that its main ingredient is yogurt. In ice creams, the main component is cream. This means that the frozen yogurt has almost no-fat compared to an ice cream.
2. Digestion friendly: Its probiotic contents enhance the body's digestive function, boost the immune system by catalyzing the production of essential vitamins, reduce allergic reactions and help in lactose digestion in people suffering from lactose intolerance.
Frozen yogurt can in some cases also help in relieving the body from the symptoms of inflammatory bowel disease.
3. It is nutritious: Yogurt is a burst of nutrients, including essential minerals and vitamins for overall bodily health. It is also enriched with essential minerals like calcium, magnesium, potassium, phosphorus, selenium and zinc that are crucial for the healthy formation of cells, bones, teeth and for the smooth functioning of the nervous and immune systems.
Frozen yogurt is not only nutritious, it is also rich in essential water-soluble and fat-soluble vitamins B-2, B-12 and B-1.
4. It is diabetic-friendly: Diabetics often crave for something sweet and are often left with very fewer options to curb their sweet cravings. Sugar Free frozen yogurt can be a perfect option for such people. Diabetic patients can have sugar-free frozen yogurt because while making yogurt, milk sugars present in milk are broken down by the live cultures, making it a healthy option for them to indulge in.
5. There is no limit to options: Frozen yogurts come in diverse flavours that can be further customized with vast options of toppings including nuts, hot toppings like caramel or hot fudge, candy toppings like sprinkles or crushed candy bars, fruit toppings like strawberries, dragon fruit, kiwis, and even more creative options like brownie bits, Oreo cookies, waffle bits and more.
(With IANS Inputs)