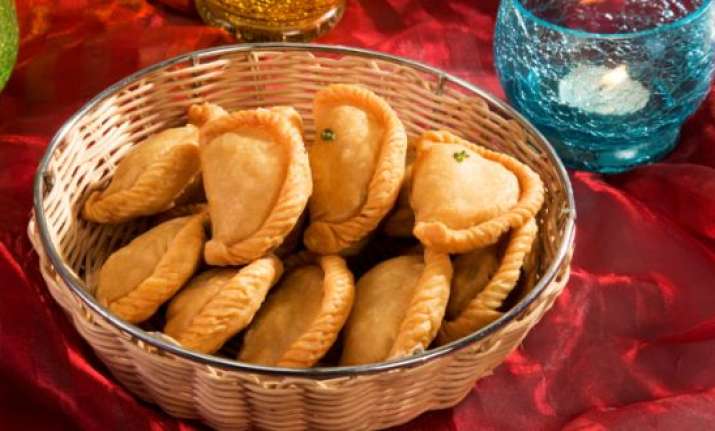 With the festival of colours Holi nearing, here are few tips to be followed while heading for your festive shopping. You are advised to keep a check on your favourite Holi dish gujiya that you are buying is fresh and unadulterated or not. 
You should prefer buying gujiyas, the special sweet for Holi, only from a licensed retailer and don't forget to check the hygienic standards are some factors that you need to look into, says an expert.
Here are some tips to keep in mind while buying gujiyas:
Some sweet shops advertise use of 'pure' ghee to make gujiyas but it might actually be adulterated with vanaspati, or refined oil. Therefore, make it a point to buy gujiyas only from a licensed retailer or a sweetmeat shop which you know is trustworthy and which you frequent often.
Also, check to see that the shop has good hygienic standards and whether the gujiyas have been stored appropriately inside showcases. 
The shop personnel must wear clean clothes and use gloves when handling the gujiyas, not touch their hair, nose, eyes or other body parts, not sneeze or cough when packing the gujiyas and not handle money and foods simultaneously.
If you wish to make gujiyas at home, you must test the khoya for the presence of starch. Purchase a small quantity of khoya and boil it in water at home. Once it has cooled down add two drops of iodine. If it turns blue, then it is adulterated with starch. 
Many vendors begin to make khoya in advance as they anticipate a high demand. Since khoya has a very short shelf life, if it is not stored in the right temperature, it can get contaminated with harmful bacteria. Avoid buying khoya which smells stale and musty. You can also test the purity of the khoya by rolling a small piece between your thumb and finger. If it is pure, rubbing will leave your fingers oily. 
(With IANS Inputs)