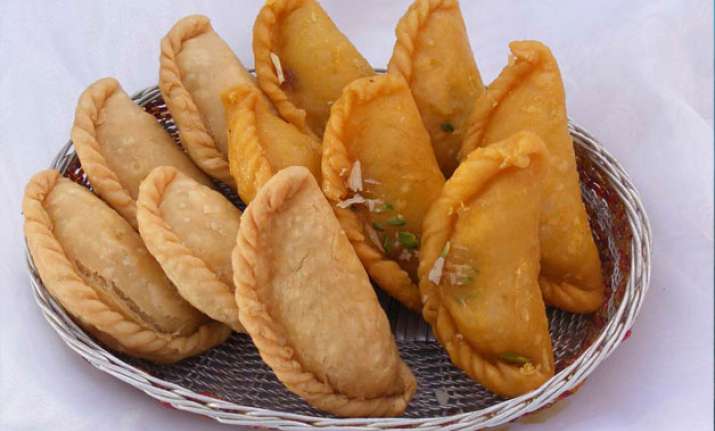 New Delhi: Holi is around the corner and everyone seems to be quite excited about this festival of colours.
Colors, pichkari, water-filled balloons, 'bhaang' and Bollywood Holi songs are a must for the celebration.
But apart from being colourfully drenched in water and dancing like crazy, what else make 'Holi' even more exciting are the mouth watering delicacies.
From malpuas to thandai to bhang ke pakore etc, every yummy dish makes Holi celebration much more enjoyable.
So today we bring you a simple recipe of one of such Holi dish - Gujiya, which actually makes people eagerly wait for this festival of colors.
Ingredients
Mawa or Khoya, powdered sugar, cashews, raisins, cardamom, dry coconut, chironji, maida, ghee, sugar
Method:
Take 1 cup mawa/khoya in a pan and roast till it turns brown. Take out the roasted mawa in a bowl and let it cool down.
Now add ¾ cup of powdered sugar, 30-35 cashews, 50-60 raisins, 6-7 cardamom, ½ cup of grated coconut and 1tbsp of chironji to the roasted mawa and mix it properly. This is the filling for 'gujiya'.
Take 2 cups of maida and sieve it in a bowl. Now add ½ cup of ghee to it, mix it well and knead it with luke warm water. Cover the dough with a wet cloth and leave it for 1/2 an hour. After half an hour punch the dough to fix and smoothen it.
Now, make small equal sized balls of the dough. Make sure to keep the balls covered with wet cloth, while you are making other balls.
After making balls from the entire dough, take one ball and roll it like a thin poori.
Now take one poori, place it on your palms and put 1 tsp of filling on it. Apply some water at the corners of the poori and fold it from one side meeting the other end. Press the corners with hands to fix the gujiya.
Keep the gujiya on a plate or a cloth and knead it from the corners with your hands. Follow the same method to make other gujiyas. You don't need moulder for this.
Take some oil in a pan and heat it for a while. Not place 8-10 gujiyas in it and fry them on a medium flame until they turn brown and crispy from both the sides.
Now take out the fired gujiyas in a plate and let them cool.
Simultaneously, take a deep pan and put 250 gms of sugar in it along with half the quantity of water and mix well as you boil it.
Cook the syrup for 5-6 minutes to make 'one string sugar syrup'. (If you feel stickiness between your fingers forming a single string, then it means that your syrup is ready.)
Dip gujiyas in the syrup and place them on a plate. Make sure you keep the all the gujiyas at some distance from each other. Leave them open for 1 hour to dry the syrup coating.
The yummy Gujiyas are ready to be served.