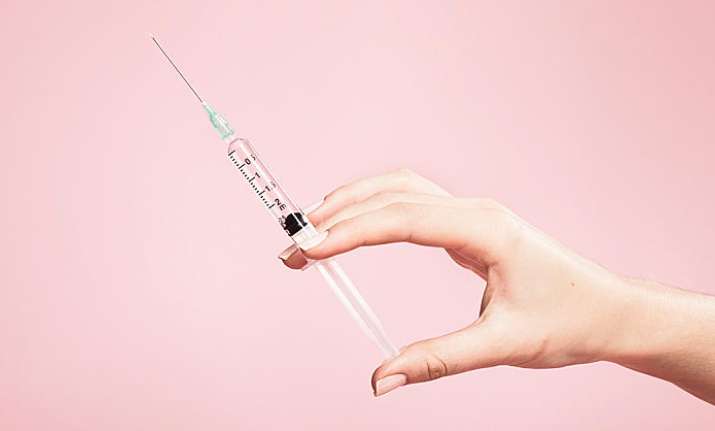 Two experimental treatments for skin cancer which is a custom-made to target a particular patient's tumours, have been proved to be safe in small-scale clinical trials. The vaccines also initiated an immune response to the tumour cells, however this doesn't equal to a cure. These are said to be the first drug trials in humans with custom-made vaccines targeted at neoantigens- molecules found in cancer cells formed by DNA mutations. The results of the study was published in the journal Nature. 
Neoantigens are not found in normal cells of human body, which makes them the easiest target for cancer therapy. Traditional treatments like chemotherapy affect the healthy cells as well as cancerous ones. This is one of the most serious side effect of chemotherapy. . "The vaccine was shown to be feasible, safe and consistently immunogenic (producing an immune response) in all patients vaccinated," study co-author Patrick Ott of the Dana-Farber Cancer Institute in Boston said of the first vaccine, dubbed NeoVax.
Also Read: Two-thirds of women cancer patients belong to lower sections of society- Study
The traditional vaccine prevent disease, but the aim of NeoVax is to prevent cancer from recurring in melanoma skin cancer patients after their tumours have been surgically removed. For now, the researchers cant assure that the vaccine has this effect or not. 
They checked the therapy in a Phase I safety trial on six melanoma survivors. 25 months later, on average, four did not complain recurrence. But this does not conclude anything about the vaccine. "The number of patients who were treated is low, so there is certainly a likelihood that these patients would have stayed cancer-free without vaccine," said Ott. Typically, at least half of melanoma patients relapse within two years.
Ott said that there is a vaccine for prostate cancer in the market, but it is not being used widely. There's vaccine for lung, bladder and skin cancer, which is going under a Phase II trial in combination with another drug. "We've long recognised in cancer that every patient's tumour is different," the team said in a statement. "With recent advances in technology, it's now becoming possible to create a therapy that's suited to target an individual's tumour."
Also Read: Ian Toothill, a British man becomes first cancer patient to summit Mount Everest!
The NeoVax treatment contained up to 20 neoantigens derived from patient tumours. The researchers sequenced the DNA of tumour cells and healthy cells from each person to identify cancer-specific mutations and pinpoint the neoantigens involved. The patients had their immune systems "trained" to recognise these molecules, with the goal of stimulating an attack.
In the same journal, another study was published. The team of researchers tested another personalised vaccine on 13 people with melanoma. This vaccine induced the immune response like the previous one. "The two studies confirm the potential of this type of approach," Cornelis Melief of the Leiden University Medical Center in the Netherlands wrote in a comment. Now they need to conduct a next-phase trial in larger groups to validate the efficiency of these vaccines. 
For more Lifestlye news click here