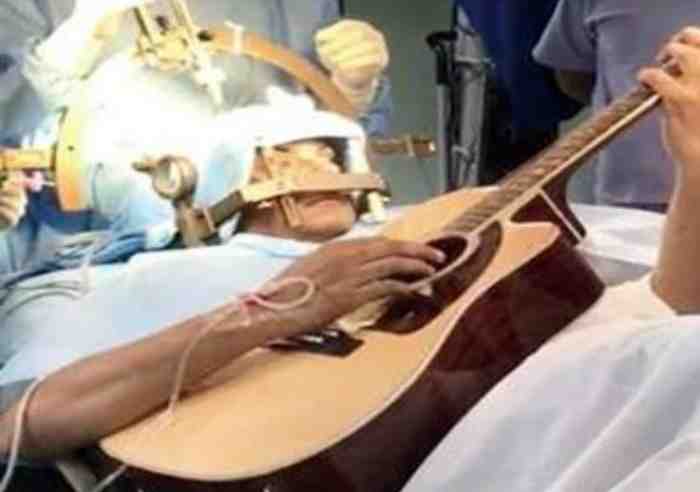 You think you've seen it all? Then this news is going to bring you down your chair. Abhishek Prasad, a 32-year-old software engineer is breaking the internet with his bizarre video. In the video, he can be seen playing a guitar while lying down on an operation table. That's not all. He's strumming the guitar while the surgeons perform a brain surgery on him to treat a neurological disorder. The surgery took 7 hours which cured the man's musician's dystonia, a condition which rendered the three fingers of his left hand useless.  The musician suffered from his first cramps a year and half ago while playing his guitar. 
Dystonia is a neurological movement disorder caused by brain sending incorrect information to the muscles. It causes prolonged, involuntary muscle contractions which cause the affected pars of body to twist into abnormal postures. Men are more affected by musician's dystonia than women.
While the doctors operated on the part of his brains that triggered the abnormal muscle contractions, the guitar-freak stayed glued to his instrument to help them find the problem areas. Dr Sanjiv C C, a senior neurologist from University of British Columbia said, ""This problem occurred when he tried to play the instrument and real-time feedback was important for us to ascertain the exact location of the target to be repaired."
Dr. Sharan Srinivasan, a stereotactic and functional neurosurgeon at Jain Institute of Movement Disorders and Stereotactic neurosurgery said, "This is a surgery where the part of the brain triggering abnormal tremors is destroyed by burning. Before the surgery, a special frame was fixed to his head with four screws going deep into the skull following which an MRI was conducted."
Also Read: Meet Arpan Doshi- Indian-origin boy who became UK's youngest doctors at an age of 21
The operation took place at Bengaluru's Bhagwan Mahaveer Jain Hospital and costed him two lakh rupees. 
The MRI Images showed three coordinates of the target area in the brain, which were 8-9 cm deep in this case, along with the entry point to the skull and path to be followed during the surgery. 
"Based on these coordinates, a 14mm hole was drilled into the skull under local anaesthesia and a specialized electrode was passed into the brain following which it was stimulated to confirm the right location and prevent complications," Srinivasan further added. 
After the surgery, the guitarist is permanently cured of his problems. His fingers improved magically on during the operation itself. Within three days of surgery, he walked out of the hospital to continue his life as a guitarist. 
A similar case happened back in 2013, when a man named Brad Carter played guitar during his own brain surgery and allowed the doctors to live stream the surgery on Twitter. 
What an amazing world. No one could have imagined someone playing a guitar while their skull broke open and doctors 'burning' the parts of their brain! 
For more entertainment and lifestyle updates follow our Facebook page