Follow us on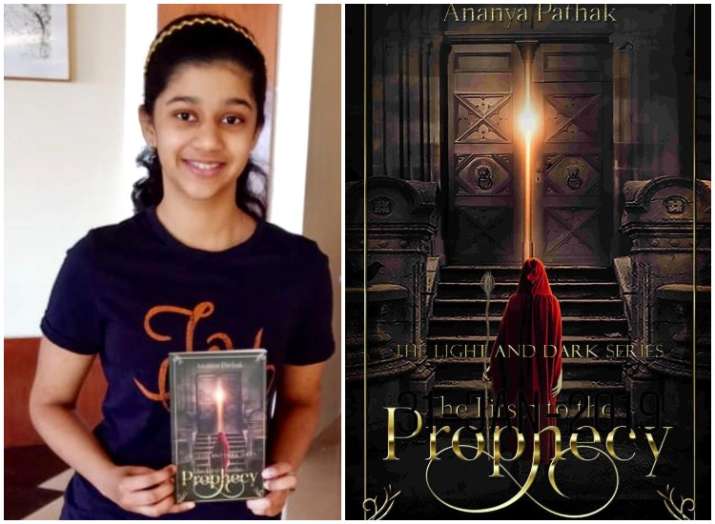 Imagination, creativity, and then putting these two into a craft and presenting it to the whole world can be done by some. Just like our youngest author who is only 12-year-old and had the guts to work on her own project and jot down what she felt. Ananya Pathak, a student of Podar International School, Mumbai, is an avid reader and certainly a passionate writer.
This little girl, who lives with her parents in the financial capital of India, enjoys writing short stories, poems and adores writing fiction in particular where she gets the freedom to cook up her own characters, stories and ideas.
 At such a young age, Ananya seeks inspiration to write from travelling. She loves to travel to get new ideas, create plots and find inspiration.
Speaking of her debut book titled The Light and Dark Series: The First to the Prophecy, it is a story of a girl who enters another world altogether. Alexia Faria's entire life is turned upside down when she discovers an eerie door in her backyard, which has seemingly appeared overnight. Upon entering it, she is buried in pitch-darkness, surrounded by hooded figures with terrifying spear-like staffs in hand. 
Alexia, the protagonist in the book, is actually in another world altogether: the Paradox world. A world divided into two realms: the light and the dark. The dark realm is where she sees the hooded figures, she is later rescued and taken to the light realm. There, she finds out that there is going to be a war between the two realms and it is going to shake the foundations of her world and everyone she has ever known. The light people, who rescue her from the dark realm, need her help to prevent this, and for that, she will have to journey back to the dark realm, where everyone won't be quite as friendly. There, she will have to battle not only the unfriendly but also the magic of the place itself, which will remind her of every bad memory she's ever had, every mistake she's ever made, every tragedy she's ever witnessed.
Acknowledging Ananya's definition of the word "imagination", she believes it is as important as breathing. People imagine to change because imagination is what brings change and this is why we have evolved over time. That's why she imagines all the time, and that's why she writes, to pen down her crazy imagination.
Lastly, sharing a beautiful quote from the book: "You humans can't see in complete darkness, right? But y'all can't see in harsh, blinding light, either. If there is only joy, in your world, someday, it might lead to carelessness and greed for more, giving birth to worse darkness. That's why there's a need for equal amounts of both: light and darkness." -Queen Rosalind of the light realm
Author: Ananya Pathak
Publisher: White Falcon Publishing
Paperback: 142 pages
Price: Rs.200/- (Available online Amazon and Flipkart)
For all the latest Lifestyle updates, check out our Facebook page!