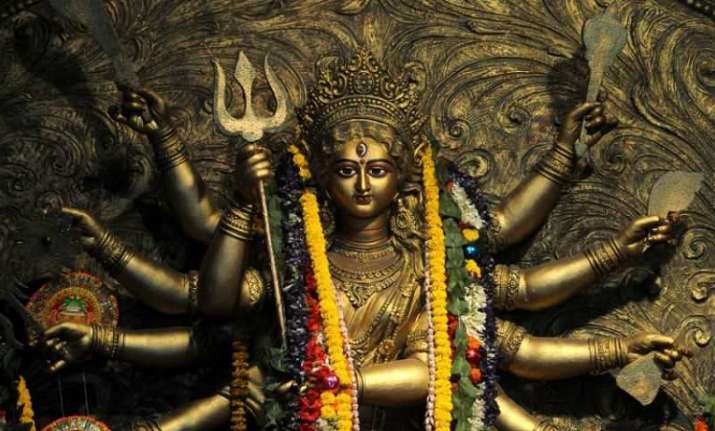 On 28th September, India is observing the eighth day of Sharad Navratri 2017. It is also known as Durgashtami or Durga Ashtami by people. It is one of the most auspicious days of Durga Puja, which starts from the sixth day, i.e. Shashti of Navratri. Durga Puja is a five-day festival, celebrated majorly in North-Eastern parts of India. On the 10th Day of Navratri, i.e. Dashmi, the Durga Idol is immersed in water. Durga Ashtami is also known as Astra Puja (Worshipping Weapon) as on this day, weapons of Goddess Durga are worshipped. Another term which is assigned to Durga Ashtami is Vira Ashtami, as arms and martial arts are worshipped on this day. 
It is believed that Goddess Kali appeared on this day from the forehead of Goddess Durga, to slay the demons Chanda, Munda and Rakhtbija. During Maha Ashtami, 64 Yoginis and Ashta Nayikas are worshipped. These Ashta Nayikas are also known as Eight Shaktis. These are Brahmani, Maheswari, Kaumari, Vaishnavi, Varahi, Narasinghi, Indrani and Chamunda. 
To celebrate the Durga Ashtami, mostly Indian families hold a Kanya Pujan in their home. A group of young and unmarried women are invited and fed at home. These young women represent the Shakti of Goddess Durga on Earth. This year, Durga Ashtami is being celebrated on 28th September. 
Durga Ashtami 2017 Facebook and WhatsApp Messages/Quotes 
Our hearty Greetings to everyone on the auspicious occasion of Durga Ashtami . May Maa Durga always guide & bless all of us.
May the blessing of Maa Durga guide you on the right path and help you in all your endeavors. Warm wishes of Durga Ashtami to all
Happy Durga Ashtami May the divine blessings of the goddess of power, Maa Durga, be with you on always! Jai Mata Di!
May goddess Durga shower you and your loved ones with immende happiness, peace and prosperity!
Maa Durga,the universal mother is embodiment of power. We bow to her to seek blessings on this auspicious occasion of Durga Ashtami
On Durga Ashtami, may Maa Durga inspire all of us with positivity, strength, wisdom and devotion! Jai Ambe! Jai Bhavani!  Jai Mata Di!
May Goddess Durga eliminate all your vices and brings happiness to you and fill your life with joy and prosperity.
Durga Ashtami 2017 Facebook/WhatsApp Images