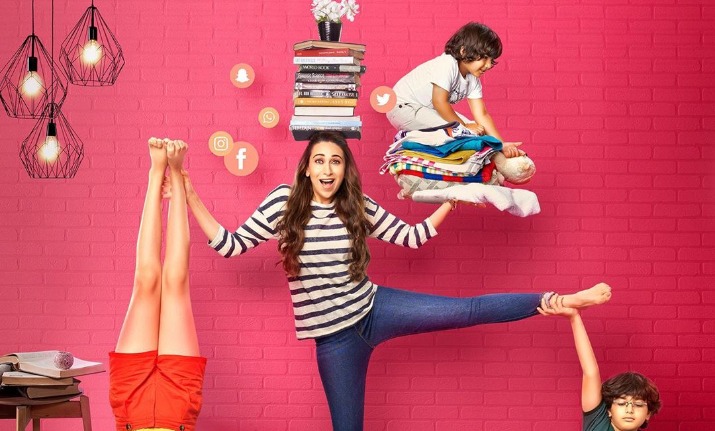 Bollywood actress Karisma Kapoor who has cast her spell at millions of people with her films including Raja Hindustani, Dil Toh Pagal Hai and others, is all set to return to acting with a web series. The web series titled Mentalhood is helmed by ALT Balaji's Ekta Kapoor. Karisma Kapoor was last seen in 2012 film Dangerous Ishhq. In the TV series, the actress will be playinga mother to three kids living in Mumbai. On Wednesday, she shared the quirky posters of Mentalhood on her Instagram. 
In one of the posters, Karisma Kapoor can be seen frustrated by her kids' petty fights. Ekta Kapoor welcomed the actress on board and wrote, "@altbalaji n I welcome Karishma Kapoor on board to frontline this amazing ensemble of mommies! She was d first n only choice n it took many mtngs ( n ten fully bound scripts ) to get this perfectionist on board !!!p.s Thanku Reshma #Mentalhood."
She added, "Meet meira sharma (she was meera but the momzillas call her ' meiraaa' mairaaa' to make her sound more fashionable)she is d inner voice of all moms ! She navigates her way thru gluten free chips n gajar ka halwa..bullies n control freaks ...n then blogs all of it!!! #Mentalhood."
The web series Mentalhood is focussed on various struggles a woman has to go through during motherhood. It also salutes the multi-tasking skills of an Indian mother and their constant worrying nature for the kids. 
Karisma Kapoor talked about her role in the web series. She also opened up on why she chose Mentalhood for her acting comeback. She said, "Out of choice I wanted to be with my family and children. After a while when I heard this script it was so interesting, the script was about today's mother and it was so strong. Women of all ages and all those who are mothers will identify with my characters. It is also something which I am going through right now. Young parents and older parents will identify with Mentalhood. My character is today's mom and as a human, she will do the right thing and is real. I am thoroughly enjoying shooting with all my lovely co-actors." 
Mentalhood will release later this year.