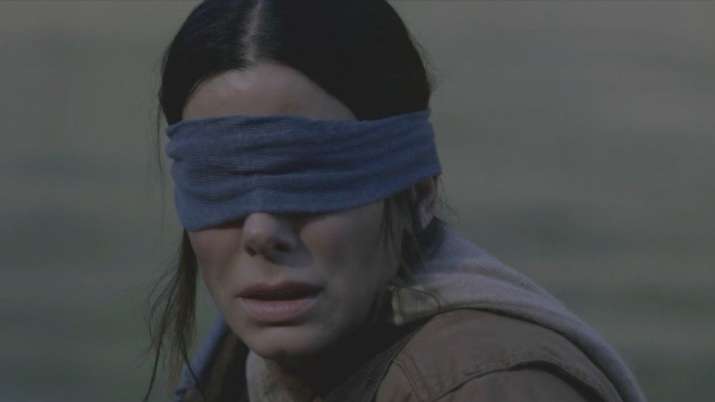 Remember the Sandra Bullock movie Bird Box that's spreading like wildfire across the globe. The film which released on Netflix in the mid of December has become the talk of the town, or say the entire globe. Even the Hollywood celebrities couldn't stop talking about it, it's that good for sure. However, the instant fame of Bird Box has led to the inception of this weird internet challenge that demands people to perform certain tasks BLINDFOLDED.
For the unversed, Bird Box is a post-apocalyptic film in which people start killing themselves after seeing a demon with their naked eyes. In order to survive, Sandra Bullock and her two kids have to keep their blindfolds on for their lifetime to survive. The film became the most watched film on Netflix ever with 45 million views. But as the collateral damage, a viral Bird Box challenge emerges.
Certain videos have surfaced on the social media which shows netizens pulling off stunts putting blindfolds on. One viral video shows a family paddling away in their bathtub blindfolded. In another video, a family hits the wall while trying to run with their blindfolds on. Soon these videos and the challenge caught the attention of Netflix, which in turn urged people to stop taking the challenge.
#BirdBoxChallenge: @michaelstrahan attempts to put lipstick on @sarahaines with a blindfold on! #GMADay https://t.co/G4PdrKdY6w pic.twitter.com/h5HIWtJtXw

— Good Morning America (@GMA) January 2, 2019
my family and i wanted to see how well we'd do if we were in the bird box movie 💀😂 #birdboxchallenge pic.twitter.com/da3d0KWTkO

— SydSyd (@LoveMahalHappy) December 27, 2018
Y'all doing this #Birdbox Challenge? pic.twitter.com/Yjx86Ex55f

— FireMadeFlesh (@FleshFire) December 27, 2018
Bird Box challenge #BirdBox #BirdBoxChallenge pic.twitter.com/6dyHVFEX5s

— Enrique Ruano (@enrique_ruanox) December 28, 2018
In its latest tweet, it wrote, "Can't believe I have to say this, but: PLEASE DO NOT HURT YOURSELVES WITH THIS BIRD BOX CHALLENGE. We don't know how this started, and we appreciate the love, but Boy and Girl have just one wish for 2019 and it is that you not end up in the hospital due to memes."
Can't believe I have to say this, but: PLEASE DO NOT HURT YOURSELVES WITH THIS BIRD BOX CHALLENGE. We don't know how this started, and we appreciate the love, but Boy and Girl have just one wish for 2019 and it is that you not end up in the hospital due to memes.

— Netflix US (@netflix) January 2, 2019