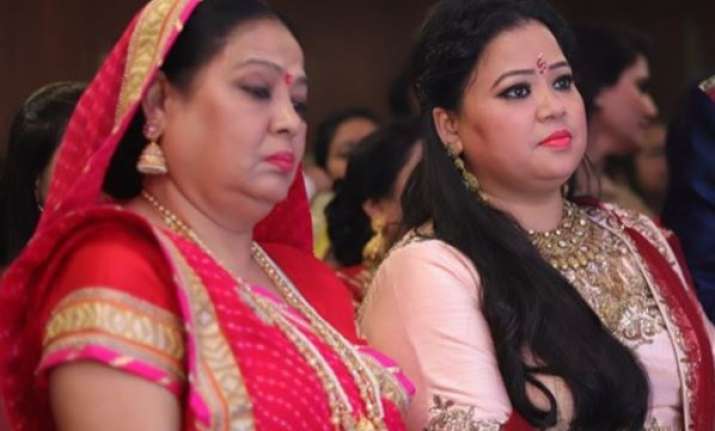 Ace comedian Bharti Singh who got hitched to her boyfriend Haarsh Limbachiyaa last year, has a special message for the lovely ladies of her life. Sharing a picture of her mother, sister and niece on Instagram, she wrote an inspiration quote, wishing the women of her life on International Women's Day 2018. She credited her success to the women of her life and thanked them for their constant love and support. 
In the caption, she wrote, "Behind every successful man is a woman... Behind every successful woman, there are women.
I have achieved so much success because of the constant love and support of these 3 women in my life
My mom. My sister. My niece.
These three strong women have made me what I am... Love you girls...keep inspiring!
#women #mylifeline #internationalwomensday #8march #inspiringwomen #loveyoumylife"
In an interview with Bollywood Life, Bharti Singh confessed that she didn't know about the concept of Women's Day until a few years ago. She also praised her husband Haarsh Limbachiyaa who makes her feel special every day of the year. The comedienne also has a special message for all the women out there. She believes that clothes and looks are not that make an impression. According to Bharti, it's a woman's speech that makes an impression. She said, "Boldness is when you can say something that instantly gets noticed," she says. For her, the most amazing woman is her mother, who decided to leave her settled life in Amritsar to help pursue her daughter pursue a career in showbiz. "If she did not take the initiative to bring her for the Laughter Challenge auditions, I would just be Bharti all my life, not Bharti Singh."
Bharti Singh is one of the highest paid celebrities in India and was ranked among the top 100 by prestigious Forbes magazine.
A couple of days ago, Bharti Singh shared a video of her husband Haarsh Limbachiyaa with her niece Ishika. In the video, both uncle and niece are having a selfie session which was being recorded by Bharti herself. She captioned the video, "My life lines"