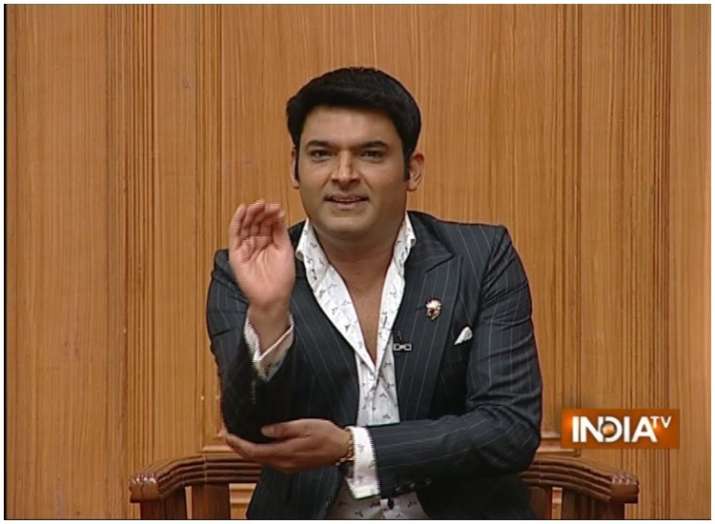 Noted comedian Kapil Sharma, who appeared in Bollywood films as well, has said, he would continue to do TV comedy shows even while working in films.
Replying to questions from Rajat Sharma in India TV's show Aap Ki Adalat, Kapil Sharma said, "Even Shah Rukh Khan and Bachchan Saheb are doing TV shows while working in films. Nowadays nobody is confined to a single genre".
Kapil Sharma's who did his Bollywood debut with film 'Kis Kis Ko Pyar Karoon' when asked whether media reports about him "sweating" while doing romantic scenes were correct, Sharma said, "Initially I was a bit scared. I had requested my director Mustan saheb (of Abbas-Mustan duo) not to incorporate dance sequences, but he appeared to be cleverer.
"When I was asked to pull my female co-star's hand, I hesitated. Then Mustan Bhai came and whispered in my ear saying, 'look, this is your heroine, we have paid her because of you, so you better pull her in bindaas style'. Then I gained confidence and did the romantic sequence", said the comedian.
The comedian said it was "a proud moment" for him when the President honoured him for creating awareness about Swachh Bharat at Rashtrapati Bhavan this month.  
"When I went to Rashtrapati Bhavan, Venkaiah Naidu welcomed me. I asked him whether he knew me. He said, he watched my shows. It was a proud moment for me. Sometimes I become emotional."
On his famous phrase "babaji ka thullu", Kapil Sharma explained how he used the word "thullu" on impulse. "The children liked it very much. I've heard there are T-shirts with the word inscribed on it. Actually, we were improvising to give the phrase a comedy touch. Anyway, it's a cute word, as if you're having an icecream".
Rajat Sharma asked why most his comedy punchlines appeared to be targeted at married women.
Kapil Sharma replied: "Even my parents used to quarrel and then make up. You see, here couples have 'saat phere', meaning there are married for seven lives. Ajay Devgn once told me - 'mar jaana, par shaadi mat karna', even Amitabh Bachchan, Akshay Paaji and even unmarried Varun Dhawan told me the same. But why this advice from those who have enjoyed married life. After all, marriage is a good part of life, if I have to die, let me die by marrying."
Asked whether he had any intention of marrying, Kapil replied nonchalantly: "Yes, I had this intention since childhood".
On making fun of mothers in Bollywood films, Kapil Sharma said: "God has entrusted women the responsibility of giving birth to children. It was after all a well-considered decision. Everybody knows men are irresponsible. They will drink beer and their children will become alcoholic. But in Bollywood films, the roles of mothers are a bit exaggerated. Mothers are shown sewing clothes to make their children police inspectors, but, in reality, even female police inspectors find it difficult to make their children tailors."
Catch the repeat telecast of this on-going entertaining episode tomorrow at 10:00 am.
For all the latest entertaining updates, check out our Facebook page!