Follow us on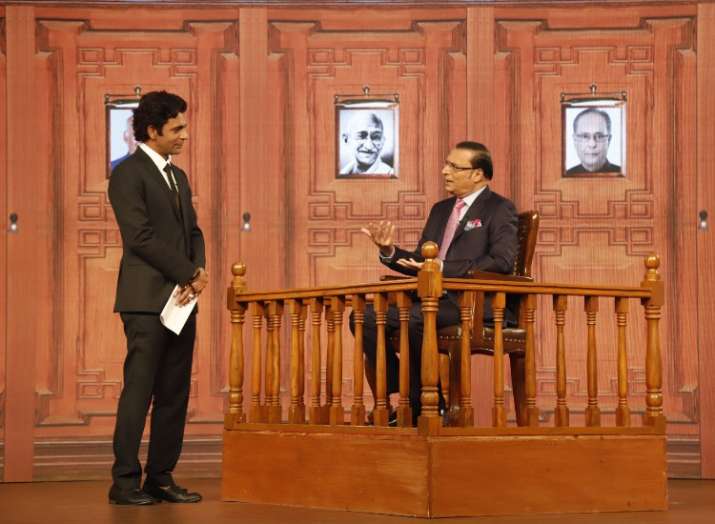 India TV Chairman and Editor-in-Chief Rajat Sharma has made it clear that he never wanted his programme "Aap Ki Adalat" to create problems for the celebrities who are grilled at the courtroom show.
This weekend it was Rajat Sharma who sat in the hot seat of 'Aap Ki Adalat' and replied to queries from popular comedian and actor Sunil Grover. Talking about the 25 year-long-journey of Aap Ki Adalat, Rajat Sharma recounted the first episode that he had done with the then Chief Minister of Bihar Lalu Prasad Yadav, now behind bars in a Jharkhand jail after being convicted in the fodder case.
 
Rajat Sharma revealed that he never thought the show would turn this big when he hosted the first episode. He recalled that he had to dub the entire episode again and later it became a hit with television viewers. 
(Also read: Rajat Sharma in Aap Ki Adalat Highlights: 'Would like to grill Rahul Gandhi')
When asked if the guests on his show get irritated with all the questions that he shoots at them. Rajat Sharma answered that they all know that I am asking the questions with sincerity because this is what the people of India want to know. 
However, he pointed out that after every Aap Ki Adalat recording, he makes sure to ask the guests if they want any remarks edited from the show lest they can create havoc in their personal lives.
Rajat Sharma explained that the show is not aimed at creating problems for the celebs but gives them a platform to put forward their thoughts before the public.
When Sunil Grover questioned why he gave a platform to Kangana Ranaut to speak out her mind and not Hrithik Roshan, Rajat Sharma said that he is keen on having Hrithik Roshan on the show and listen to his side of the story as well.
While Rajat Sharma has been a popular name in the world of television, not many people know about his personal life.
When asked for details about his marriage with Ritu Dhawan, Rajat Sharma revealed that both of them used to work together and fell in love with each other. However, he added that it was the love for their work that kept them connected all through these years.
Asked what keeps him grounded and makes him emotional, Rajat Sharma disclosed that one thing that keeps him going is that he never forgets his past. 
He revealed that there was a time when his family had no food to eat, no access to electricity and his father taught him that the true test of a person lies in finding happiness under the worst of circumstances. He added that he still derives confidence from his past and remains motivated to work hard.
Asked about his most memorable moment from the show, Rajat Sharma recalled the incident when after shooting for Aap Ki Adalat episode with Atal Bihari Vajpayee, he met him and Vajpayee showered him with praises.  
Rajat Sharma recalled an incident when after the recording of  Aap Ki Adalat episode with Atal Bihari Vajpayee, he met the former PM, who told him that he was grateful for having been invited to the show, because the process of him becoming the Prime Minister started from there. 
He further revealed that Vajpayee told him that he was sorry that he couldn't meet him for those 13 days when he was the Prime Minister. Thirdly, Atal Bihari Vajpayee honoured him by extending his hand of friendship.
Watch the full episode here-
Tonight's Aap Ki Adalat show will telecast again tomorrow, Sunday, February 3 at 10 am and 10 pm.