Follow us on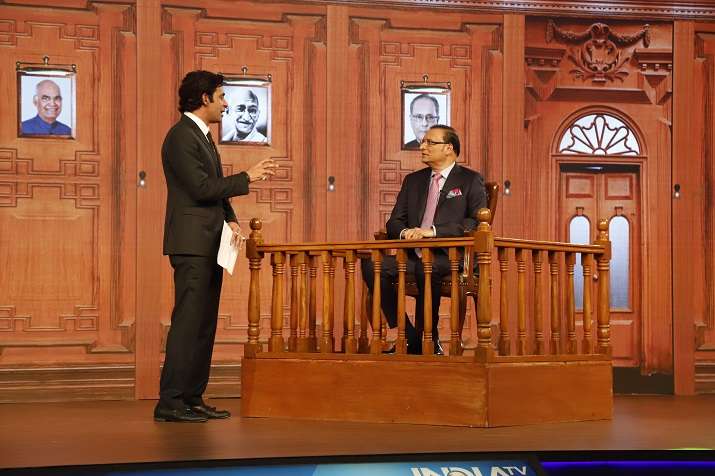 Aap Ki Adalat, which has been successfully running on Indian television for 25 years has taken an interesting turn tonight. This time, India TV's Editor-in-Chief Rajat Sharma stood on the other side of the witness box. Ace comedian and now a successful Bollywood actor Sunil Grover asked some interesting questions from Rajat Sharma in this new fun and interesting version of Aap Ki Adalat. Talking about Sunil Grover, the comedian rose to fame for his portrayal of comic character Gutthi and Dr Mashoor Gulati in The Kapil Sharma Show. Later, he moved on to Bollywood films and made his mark successfully in the industry. He floored the audience with his performance in Vishal Bhardwaj's Pataakha and is all set to share the screen with Salman Khan's Bharat.
TV Ka Dum: Shah Rukh Khan adds charm to India TV's mega conclave with Editor-in-Chief Rajat Sharma
On the other hand, Editor-in-Chief Rajat Sharma has hosted one of the most popular talk show Aap Ki Adalat for 25 years now. Many Bollywood biggies including Shah Rukh Khan, Salman Khan, Aamir Khan, Ranbir Kapoor, Deepika Padukone, Alia Bhatt, Akshay Kumar and others have graced the show in the past. This time, tables have turned and Rajat Sharma didn't play the public prosecutor. Let's see how the fun unveiled as Sunil Grover questioned him as the interviewer.
Here are the Highlights for Aap Ki Adalat 
11:00 pm: Rajat Sharma asks Sunil Grover if he ever thought that he would grill him on Aap Ki Adalat. To this the comedian replies, "I feel privileged to be standing here."
Sunil Grovers asks him why he blushes in the presence of actresses, but Rajat Sharma questions him back asking him whether he flirts with his Bharat co-star Katrina Kaif or not. 
10:50 pm: My first guest was Lalu Prasad Yadav. Someone asked him to break a Nariyal on the set. He broke the coconut in the middle of the set. We dried the coconut water with a blow dryer. We started the shoot and the interview went really well. But in the end, my audio didn't get recorded. I had to shoot for the episode again- Rajat Sharma. 
TV Ka Dum: Shah Rukh Khan finally reveals story behind his signature arms open pose (Video)
"I got emotional when I saw the videos of my old Aap Ki Adalat videos"- Rajat Sharma. 
Rajat Sharma also praised former Prime Minister Atal Bihari Vajpayee saying that he is the most humble person I've met. 
10:45 pm: He reveals that after shooting for each Aap Ki Adalat episode, he asks his guests if they would like to get any segment of the show edited, if it impacts their personal life. 
10:41 pm: Rajat Sharma says that US President Donald Trump is the perfect candidate for Aap Ki Adalat. Apart from him, India TV's Editor-in-Chief would like to interview Amitabh Bachchan and Rahul Gandhi on Aap Ki Adalat. 
10:35 pm: Rajat Sharma back to his usual questioning. He asks Sunil Grover why he dresses up like a woman on his comedy shows. But Sunil Grover is adamant that he won't answer any of his questions. 
TV Ka Dum: Himesh Reshammiya claims Arijit Singh is the best Bollywood singer in last ten years
10:30 pm: Sunil Grover asks why Rajat Sharma didn't call Hrithik Roshan on Aap Ki Adalat after the entire controversial Kangana Ranaut interview. To this he replied, " I didn't know that her episode was going to be that explosive. This didn't mean that I didn't want to have him on my show. I welcome him always."
10:28 pm: Rajat Sharma talks about his friendship with Finance Minister Arun Jaitley. He revealed that how people thought he has been unfair to his friend when he came to Aap Ki Adalat. However, Arun Jaitley took everyone in a light manner and assured his friend that he didn't get offended by any of his questions. 
"I feel privileged to have a friend like Arun Jaitley,' says Rajat Sharma. 
10:20 pm: Sunil Grover asks why people come on Aap Ki Adalat when they know they will be grilled. To this Rajat Sharma replies, "It's because they know that the questions are being asked with a good intention and not with a hidden agenda."
He lauds his wife Ritu Dhawan for being his pillar and the wind beneath his wings. He always wanted his wife to come on the front and take credit for his work. In fact, he even credits his entire team for the success of Aap Ki Adalat. 
10:17 pm: Sunil Grover asks why Rajat Sharma always dressed up in formals. To this, he replies, "I don't have anything else in my wardrobe."
10:15 pm: "My wife (Ritu Dhawan) is my biggest critics. After every Aap Ki Adalat episode, she tells me everything that were not up to the mark"- Rajat Sharma. 
He reveals how he manages to keep himself calm and composed during Aap Ki Adalat. He feels angry when an interviewee doesn't spill out details on being asked questions. 
Talking about temperament, Rajat Sharma revealed that he felt angry while shooting for Aap Ki Adalat with Delhi CM Arvind Kejriwal, because he questioned his integrity. 
10:08 pm: Ace comedian and Bollywood actor Sunil Grover enters the stage and insists Rajat Sharma to sit on the other side of witness box. He asks who is the audience who puts allegations on the guests on Aap Ki Adalat. 
"This audience has made me and their sentiments are the most important for me," says Rajat Sharma. 
"Audience love for me has always motivated me to keep working," he added. 
India TV's chairman and Editor-in-Chief Rajat Sharma reveals that he feels nervous whenever he's about to begin to shoot for the episode. He says that even after 25 years of Aap Ki Adalat, he still feels nervous before the shoots. 
10 PM: Maniesh Paul introduces 'Pride of Journalism' Rajat Sharma on the stage. Paul requests him to switch sides this time. He makes India TV's Editor-in-Chief Rajat Sharma sit inside the witness box.