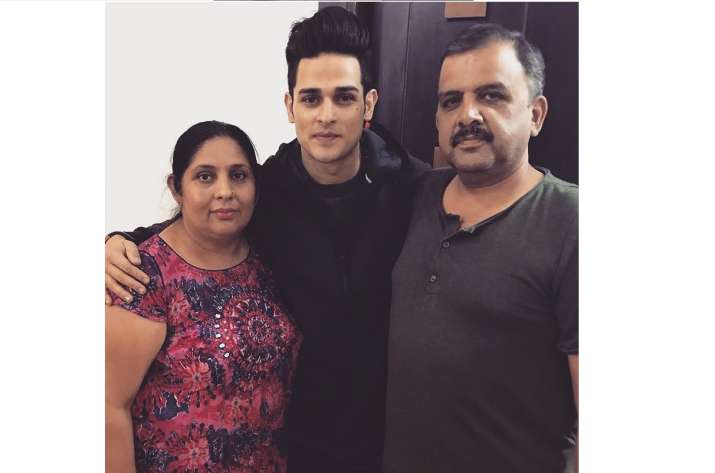 Bigg Boss 11's fame Priyank Sharma is making headlines for his upcoming TV show Love On The Run, in which he will be playing the role of a struggling filmmaker. He was also on a Switzerland trip with his newfound friend Tejaswi Prakash from Rishta Likhenge Hum Naya. He came back from Switzerland with bags full of newly shopped clothes, shoes and what not. This didn't go down well with Priyank's mother.
Priyank Sharma shared a video in which his adorable mother is scolding him for filling the house with his clothes. This is something every Indian mom has been complaining about their kids. We shop and fill our wardrobes with clothes and thus, some clothes remain even untouched for years.
Priyank secretively records the video of his ranting mom and posted it on Instagram. In no time, the video went viral on social media. He captioned the video, "She has a lot of complaints from me. Me being a naughty one always."
During the Padosi task in Bigg Boss 11, the contestants' family members were invited to live in the BB house for two days. It was Priyank's mother who always shied away from unwanted arguments with anyone in the house. Each and every housemate found her really adorable and even named her 'Doraemom' mommy.
Priyank Sharma will be seen on smallscreen again with MTV's new show Love On The Run which chronicles the dilemma of young love. He will be playing a role of a filmmaker Shaurya who meets Shivani for a documentary. He falls in love with but has to face her father's wrath. Commenting on his new innings, he said, "I was wanting to work in a fiction show from a long time so when I was being approached for Love on the run I couldn't say no. The concept of the upcoming episode is very relevant in today's day and age wherein youngsters are constantly in a fix of choosing between their love and career. Personally, I am a strong believer in the power of love so I am completely against the view that love can have any kind of adverse effect on your career. In fact, strong support from your loved ones gives you the strength to achieve anything and everything in life."