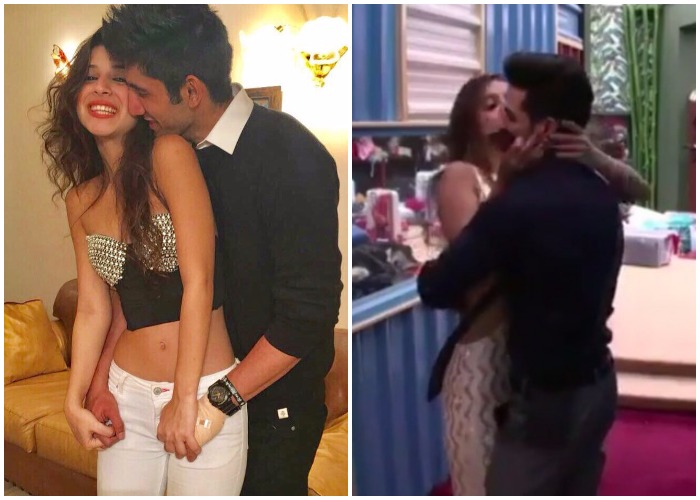 Bigg Boss has seen a number of twists and turns ever since the first episode of the season 11. This season is definitely going to be the craziest season of all. With too many fights and too little friendships, Bigg Boss 11 has been grabbing headlines. Thursday's episode has been a milder one except for the sequences where Priyank Sharma and Benafsha Soonawalla are seen getting too close to each other. Going by what we saw on the television, Priyank and Ben are feeling more than just friendship about each other. This wasn't digested well among the audience, known for the fact that both Priyank and Ben are committed to two different persons in the outside world.
Priyank Sharma's girlfriend and a reality TV personality Divya Agarwal is miffed at the face of it. In an interview with IB times, she says that going by what happened on 9th November's episode, Priyank is taking her for granted. She also mentions that the he has been acting caring towards Benafsha in Bigg Boss house is similar to how he behaved with her in Splitsvilla.
Divya also quotes Hiten saying that the man has maintained his dignity in the house, for the fact that he has a wife and children out there. While Divya Agarwal has clearly has nothing to do with Priyank Sharma now, Varun Sood still rests his faith in his girlfriend Benafsha. In a live he did on Instagram on Friday morning, Varun puts his stance forward on the entire Benafsha-Priyank matter.
He says, "Every person is different and have their levels of tolerance. Don't jump to conclusions based on what you see on TV. We should respect everybody. Bigg Boss house makes you do things they don't intend to. Don't judge people and wish them well in their lives. I don't know what's going inside the house. I will get my answers when they will come out of the show."
In a tweet on Friday, Varun Sood tells that he knows about Bigg Boss 11 as much as the audience knows. We'll get the answers when the show is over. Till then, keep loving your favourite contestants.
Thankyou:) pic.twitter.com/EDcP3339ms

— Varun Sood (@VSood12) November 10, 2017
The live video was joined by popular VJ and reality TV personality Bani J and Priyank's girlfriend Divya Agarwal as well.
In the video, Varun asks people not to judge Divya for her decisions. He says, "If something on the show is making her uncomfortable, let her make her own decisions.  Don't judge either Priyank or Ben. Understand what Divya is going through, she has already been through a lot in her life. You're not in the house to know what's happening. Let them enjoy. I trust Ben and I will wait for her to come out of the house."
One last tweet about this. Who ever is bodyshaming on the show is wrong be it akash or priyank or anyone. Its not acceptable. Somethings are bigger than the show. And that is self respect:) peace

— Varun Sood (@VSood12) November 9, 2017
Bani J also advises people not to judge people or speculate anything without knowing both the sides of the story.
In an exclusive interview to IBtimes, Varun Sood spoke volumes about his equation with beau Benafsha. When asked if he's secure seeing Ben's growing closeness to Priyank, he said, "Not at all, I trust her. I trust her on a different level all together. I am pretty sure there's something more this which hasn't been shown. And when she's out, I'll ask her. I am a guy who doesn't jump into the conclusion. I am a sorted guy in the head and I shall wait 60 more days she'll come with the trophy, then I'll ask her. That's not an issue."