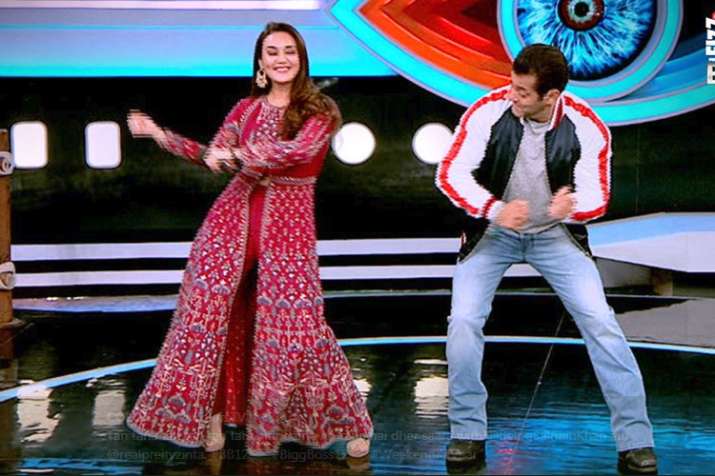 After the captaincy task yesterday, Bigg Boss 12 contestants were all set for the elimination round. The show host Salman Khan announced that the eviction will be done on November 11. After the captaincy task, Bigg Boss 12 contestant Karanvir Bohra was selected the winner and became the new captain of the house. Dipika was the coordinator of the captaincy task but housemates were quite disappointed by her leading skills. In today's episode, Salman Khan slammed Dipika for her poor coordination in the task. Bollywood actress Preity Zinta entered the Bigg Boss house to promote her forthcoming film Bhaiaji Superhit. Preity and Salman enjoyed many fun task together on the show. Both Salman and Preity were seen dancing together on the stage. For all the latest updates of Bigg Boss 12 November 10 Weekend Ka Vaar episode, watch the space below. 
Bigg Boss 12 Nov 10 Weekend Ka Vaar Highlights:
10:11 pm: Salman says housemates will get to see a major twist in the game in tomorrow's episode.
9:59 pm: Preity meets all the Bigg Boss 12 contestants. She announces a task and divides housemates into two teams. Preity says imagine Bigg Boss house to be a romantic ground and housemates are supposed to impress Preity by performing a romantic act.
9:50 pm: Preity enters the Bigg Boss house. Salman says the elimination will be announced tomorrow.  
9:40 pm: Salman welcomes Preity Zinta in the house. Preity promotes her forthcoming film Bhaiaji Superhit on the show which also stars Sunny Deol. Salman and Preity play a quiz task. Preity wins the quiz task. Salman sings a song Aate jate song while dances with him. 
9:31 pm: Rohit gets a call from a fan from Varanasi. He blames Rohit of not playing well. He asks Rohit to play actively. Dipika gets 'sabse bada gunehgar' tag from housemates. Salman announces Dipika's name for the torture room.  
9:20 pm: Salman then slams Sreesanth for nominating Deepak with a wrong reason. Salman congratulates Karanvir for winning the captaincy task. Salman asks Surbhi's feedback about the complete task and Dipika's coordination. He slams Dipika for being biased and supporting Karanvir in the task.  
9:15 pm: Salman slams Deepak for insulting Jasleen and making personal comments on her. Salman blames Deepak of character assassinating Jasleen. Salman then slams Surbhi for supporting Deepak in insulting Jasleen.  
9:10 pm: Salman teases Karanvir for his funky outfit. He then teases Deepak and Somi. Salman praises the commoners for their choices of the second round of nominations. 
9:00 pm: Salman talks about Sreesanth's nomination. Salman praises Romil's sacrifice for Somi. The show host Salman shares a fighting incident which took place between Sreesanth and Srishty. Salman discloses about a new twist in the nomination task. 
8:40 pm: 
The contestants are terrified as the night of elimination returns. Find out who has to leave the #BiggBoss12 house in this #WeekendKaVaar tonight at 9. #BB12 pic.twitter.com/Xnd3kVmzt9

— Bigg Boss (@BiggBoss) November 10, 2018