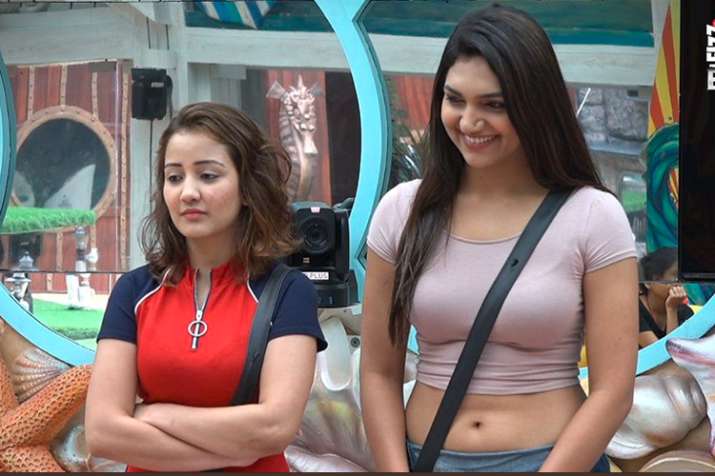 As part of the Day 4 task in Bigg Boss 12 house, contestants had a tough for the captaincy. Bhajan singer, Anup Jalota acted as a King and he even crooned Sunny Leone's song Baby Doll for Kriti and Roshmi. In the captaincy task, Kriti, Dipika and Roshmi played the Queens role. The three Queens were asked to impress the King Anup. Dipika, Kriti, and Roshmi made all efforts to impress the King and were even seen dancing in front of him. Housemates were seen having a tough fight for power. Bigg Boss contestants were also seen having a serious discussion for proper distribution of the household responsibilities among housemates. Below are all the latest updates of Bigg Boss 12.
Bigg Boss 12 Day 4 Highlights: 
9: 59 pm: Saba blames Deepak for always interrupting between conversations. Saurabh tries to convince Sreesanth and even gets emotional. Saurabh asks Shivashish and Sreesanth to patch up. 
.@sreesanth36 has a few words to say in his defence. Will things finally calm down in the #BB12 house? Stay tuned to find out! #BiggBoss12@BigMusclesNutri @cpplusglobal

— COLORS (@ColorsTV) September 20, 2018
9:50 pm: Sreesanth and Shivashish again indulge in a heated argument. Saurabh and Deepak try to calm down Shivashish. Saba and Shivashish also start an argument. Saba is annoyed with Deepak's behaviour. Sreesanth stating his point says he abused himself and not Shivashish. 
Kyun abuse kiya @sreesanth36 ne #ShivashishMishra ko? #BiggBoss12 #BB12 pic.twitter.com/5E0c4rLeYl

— COLORS (@ColorsTV) September 20, 2018
9:40 pm: Bigg Boss announces Kriti and Roshmi as the first captains of the Bigg Boss house. 
#KritiVerma #RoshmiBanik aur @ms_dipika mein se kaun banega vijeta? Dekhte rahiye #BiggBoss12. #BB12

— COLORS (@ColorsTV) September 20, 2018
9:31 pm: Roshmi impresses the King by swimming in the pool and gets a rose from him. Anup sings Sunny Leone's song Baby Doll while Kriti and Roshmi dance on the same track to impress the King. Jasleen suggests Anup to select Dipika as the captain. Deepak locks himself in the washroom with a rose and refuses to return the rose.
9:20 pm: The Queens Dipika, Roshmi and Kriti start to impress the King Anup. Queen Kriti gets the first rose from the King Anup. Meanwhile, Shivashish and Sreesanth have a heated argument with each other. Nehha tries to calm down Sreesanth.  
After an intense discussion, the jodis have decided that #KritiVerma and #RoshmiBanik will fight for the title of captaincy! #BB12 #BiggBoss12@SportobyMacho pic.twitter.com/J75LqKbEr4

— COLORS (@ColorsTV) September 20, 2018
9:13 pm: Housemate nominate Kriti-Roshmi and Dipika's name for the captain. Bigg Boss announces that a task will be assigned to all the three nominated contestants. As part of the captaincy task, Bhajan singer Anup was asked to play a romantic King. Kriti, Roshmi, and Dipika will try to impress the king. The king will give roses to the Queens and the queen who gets maximum number of rose will be the selected as the captain of the house.  
Entertainment hoga unlimited jab contestants jutenge for an exciting BB Task! Tune in to #BB12 Now ! #BB12 #BiggBoss12 pic.twitter.com/5NYvEdukOT

— Bigg Boss (@BiggBoss) September 20, 2018
9:07 pm: Somi prefers Saba as a suitable contestant for the captain. Shivashish says Kriti and Roshmi are best contestants for the captain. Urvashi says Somi and Saba should try to increase their involvement in the task and should try to grow bond with the housemates. Sreesanth announces Dipika's name for captain while Deepak announces Kriti's name for the captain. Later, Bigg Boss asks to rethink and take a final decision with mutual consent. 
9:00 pm: Housemates wake up to the song Baadshah. Anup compliments Jasleen and asks her well being. He even teases Jasleen. Romil, Deepak and Nirmal have some serious discussion.  Bigg Boss instructs to start the first captaincy task. Bigg Boss says that the first captain will only be selected from the female contestants as the BB press conference task was canceled due to unsatisfactory performance of the male contestants. 
8:42 pm
The fight for power has begun! Tune in tonight at 9 PM to find out who will win the captaincy of the #BB12 house. #BiggBoss12 https://t.co/sHsrrPeWMH

— Bigg Boss (@BiggBoss) September 20, 2018
8:40 pm:
#BB12 house mein hone wali hai kante ki takkar to win the title of the captain! Kiske haath lagega ye captain banne ka chance? Janne ke liye dekhiye #BiggBoss12 aaj raat 9 baje pic.twitter.com/aruOo0NW1U

— Bigg Boss (@BiggBoss) September 20, 2018
8:38 pm: 
Cooking duties ko distribute karne ke liye ho rahi hai contestants ke beech charcha! Dekhiye #BB12 aaj raat 9 baje! #BiggBoss12 pic.twitter.com/Wns7cPxqzq

— Bigg Boss (@BiggBoss) September 20, 2018