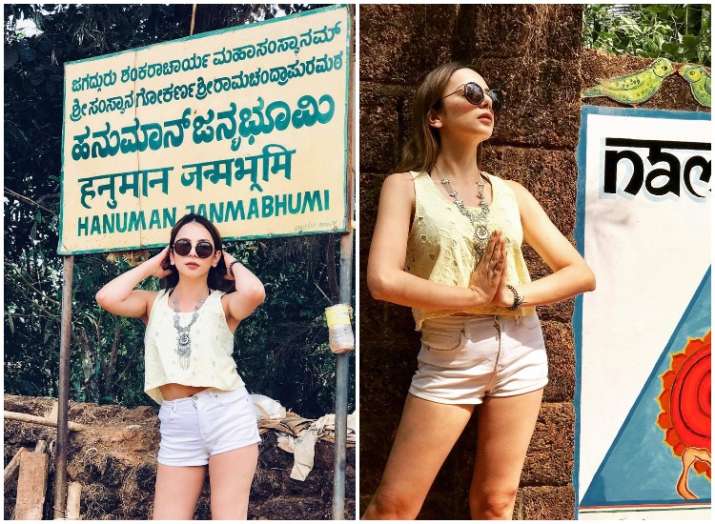 Bigg Boss 10 contestant Nitibha Kaul, who made huge headlines for her rumoured relationship with winner Manveer Gurjar, is back in the news today. Nitibha, who entered the reality show as a commoner, posted few pictures of herself outside Lord Ganesha temple on social media. What followed next was heaps and heaps of trolls as haters began to slut-shame Nitibha for wearing shorts in the religious place. From calling her indecent to teaching her "manner", members of the social media started pouring in hatred messages to the fullest.
Taking to her Instagram account, Nitibha Kaul posted the picture with a caption that read, ""There, where Hanuman was born #NitibhaTravels #Gokarna #IncredibleIndia #Hanuman".
As soon as the picture hit the internet, haters were too quick to react on it. Have a look at how Nitibha Kaul was mercilessly trolled for posing in short pants outside Hanuman temple.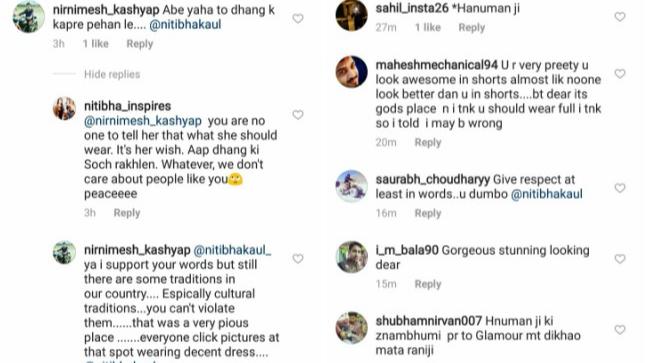 However, bold and beautiful Nitibha Kaul responded to her haters and wrote, "Hey As*****. You deserve to be lynched in public. You know what that means? Haha Google it you illiterate person- maybe that will expand your GK, because the rest of the time, I'm sure you'd be spreading dirt on people's Instagram. You are the reason this country is considered unsafe for women- sick sad men like you, who get joy by saying shit- I only pray you find true happiness- because you clearly need it. Happy Healing!".
Furthermore, Nithiba also posted another picture in hotshots with a badass comeback that read, "To the ones who understand – (heart symbol) To the ones who don't- Namaste".
Since then the sassy girl has been posting bold and sizzling pictures of herself on social media. 
Kudos to you girl!