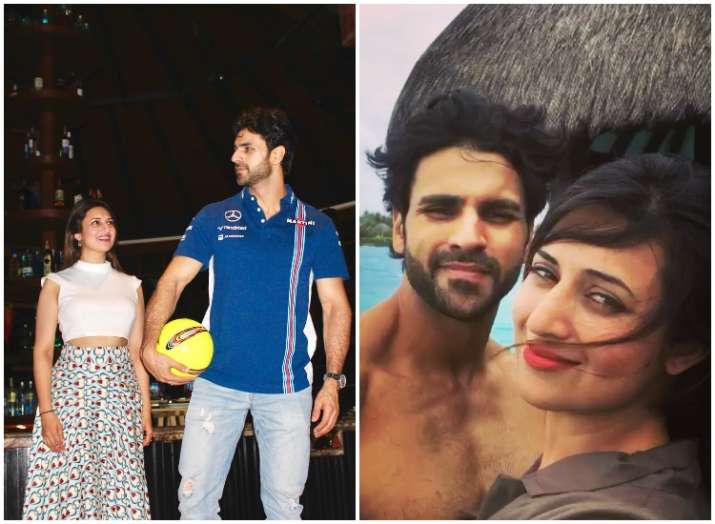 Television power couple Divyanka Tripathi and Vivek Dahiya are celebrating their second marriage anniversary in the most romantic and extravagant manner. The couple are having a ball of a time in Maldives. The lovebirds are soaking themselves in sun, sand and romance to the fullest.
In these two years, they have not just grown together but also set many relationship goals for their fans and followers. From expressing their love on social media to standing up for each other, they have done it all with great dignity.
Divyanka posted a Boomerang video with husband Vivek and wrote, "Two years ago, at this hour dancing at our sangeet gave us a high. Today, it's the tranquil." Vivek also posted a lovely wish for his wife with a caption that reads as, "I watch chick flicks with her, she watches football with me." Before landing in Maldives, the couple made a stop-over at Colombo (Sri Lanka) and from there too, they delighted us with some pictures.
It was only a matter of time before Vivek and Divyanka started dancing together after hitting it off. They created quite a buzz and the fans gave them a cute hashtag to commemorate them both and #Divek was born.
According to reports, Pankaj Bhatia added them both to a Whatsapp group and they got to know each other better. Divyanka who at the time had been dating actor Sharad Malhotra was looking for a serious commitment and when she was sure about their future they made things official.
This led them to meet each other's parents and then an engagement in January 2016. They then tied the knot on July 8, 2016, and also celebrated in a lavish reception.
This couple also attracted their share of controversies where their fans accused Vivek of marrying Divyanka only for her fame. Divyanka was also accused of forcing brands to Singh them together as a couple.
However, this couple chose to put all these accusations to rest and have jet-setted to the ever romantic country of Maldives. Here's wishing them the best on their anniversary.