Follow us on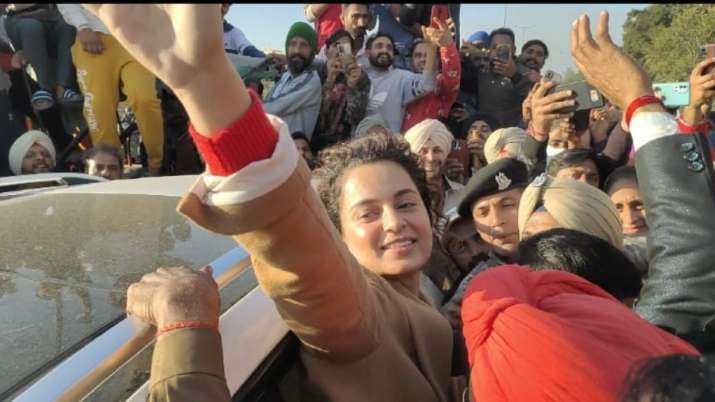 Highlights
Farmers stopped actor Kangana Ranaut's car near Ropar & protested against her
"If the police personnel were not present here, lynching would've happened," actress said
Bollywood actress Kangana Ranaut claimed that she was stopped by farmers in Bunga Sahib, Sri Kiratpur Sahib on Chandigarh Una Highway. Farmers were gathered in large numbers to stop the actress and demanded an apology over her remarks on the Sikhs. Sharing a video, Kangana said, "As I entered Punjab, a mob has attacked my car.... they are saying they are farmers." She also shared videos claiming that there would have been mob lynching if the police wouldn't have arrived at her rescue. She said, "shame on these people."
However, later she updated her fans through videos shared on her Instagram stories that she has come out of the 'sticky' situation and thanked the Punjab Police and the CRPF for their help. The videos also showed the actress interacting with some of the women protesters and clarifying that her statements weren't for them but for people protesting at Shaheen Bagh.
For the unversed, Kangana Ranaut faced the heat for her post in which she had, without taking any names, mentioned India's first lady prime minister Indira Gandhi and Operation Bluestar carried out in 1984. "Khalistani terrorists may be arm twisting the government today... But let's not forget one woman...the only woman prime minister ne inn ko apni jooti ke neeche crush kiya tha (she had crushed them under her feet)..."
Kangana has also been summoned by the Delhi Assembly's Committee on Peace and Harmony to depose before it on December 6 (at 12 noon) over her controversial social media post.
Not only this, the actress has ben recieving death threats after her statements stirred a storm. Kangana then filed a complaint at a police station in Himachal Pradesh against the people who have been allegedly giving her death threats. She also requested interim Congress president Sonia Gandhi to direct the Punjab government to take action in this regard. "You (Sonia Gandhi) are also a woman, your mother-in-law Indira Gandhi ji fought strongly against this terrorism till the last moment. Kindly instruct your chief minister of Punjab to take immediate action about the threats from such terrorist, disruptive and anti-national forces," she said.