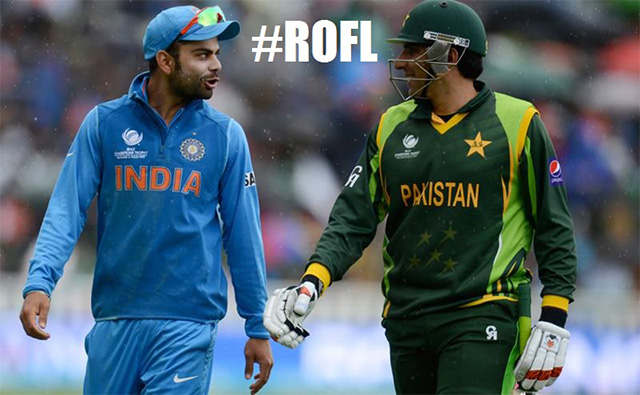 The highly-anticipated match of the Champions Trophy 2017 is here and the festival-like excitement in the air is visible. Amid all the apprehension and adrenaline rush, Twitter has already flooded with millions of tweets about the great battle. The blue warriors are battling with Pakistan in Birmingham, Pakistan won the toss and chose to bowl first. India will be having a face-off with Pak for the first time since March 2015. But even before the 'Real Battle' started on the field, IND Vs. PAK was already trending on Twitter. India-Pak matches divide the audience into two, one those who stands with team India and the rest of those who don't.  
Here are some of the funniest tweets posted by the Cricket-Crazy Indians for expressing their love for the Indian cricket team. 
LIVE UPDATES INDIA VS PAKISTAN MATCH | LIVE SCORECARD
1st Over Went For Maiden Coz Rohit Sharma Wanted To Ensure That Thing In Amir's Hand Is Really A Ball, Not Stone Or Bomb.#INDvPAK #INDvsPAK

— Sir Ravindra Jadeja (@SirJadeja) June 4, 2017
We've got to admit it that Indian are at their sarcastic best when it's an Ind Vs. Pak match. 
Pak won the toss and choose to get troll first.#INDvPAK

— Professor GyaanCho™🇮🇳 (@theHasnainRaza) June 4, 2017
While the 'Paltan' is on the field to face the real combat, Twitterati are content winning their own petty Troll War! 
Pakistan won the toss. Thereby finishing the quota of their win today. #INDvPAK

— Keh Ke Peheno (@coolfunnytshirt) June 4, 2017
They leave no stone unturned while trolling the opponent team.
My reaction upon seeing a Pakistani captain speak in English at the toss. #INDvPAK pic.twitter.com/9QtB7mAdEE

— The-Lying-Lama (@KyaUkhaadLega) June 4, 2017
The memes and trolls have flooded the micro-blogging website turning #IndvsPak the worldwide Twitter trend. 
The trolls are so ROFL-ing that sometimes it gets even more interesting to watch these trolls than the match itself. 
When you go for the viva without studying anything. #INDvPAK pic.twitter.com/sxSCNNCYee

— Sand-d Singh (@Sand_In_Deed) June 4, 2017
Not only the trolls, our cult-favourite Mauka-Mauka videos are also rocking the social media and YouTube. Some people even suggested team India to walk out from match to send out a strong message to the 'Terrorist Nation'.