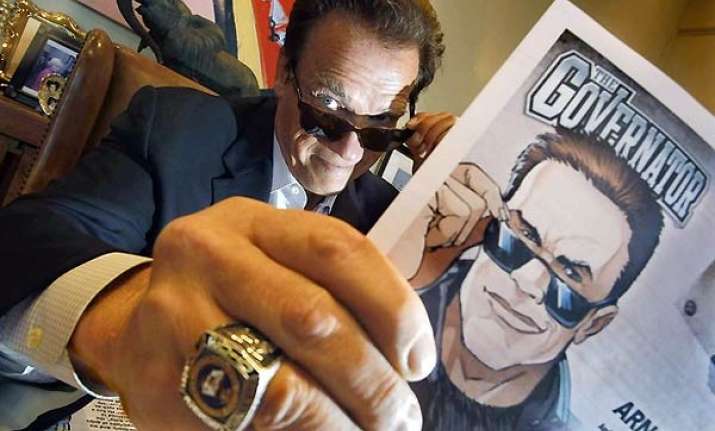 Days after acknowledging that he fathered a child outside of marriage, former Gov. Arnold Schwarzenegger said Thursday that he is putting his Hollywood comeback on hold to devote time to his personal life, according to a statement released by his entertainment advisors.

"At the request of Arnold Schwarzenegger, we asked Creative Artists Agency to inform all his motion picture projects currently underway or being negotiated to stop planning until further notice," Patrick Knapp, entertainment counsel to Schwarzenegger, said in a statement. "Gov. Schwarzenegger is focusing on personal matters and is not willing to commit to any production schedules or timelines. This includes 'Cry Macho,' 'The Terminator' franchise and other projects under consideration. We will resume discussions when Gov. Schwarzenegger decides."

The decision follows The Times' report on Tuesday that Schwarzenegger and his wife of 25 years, Maria Shriver, had separated after he disclosed to her that he had fathered a child more than a decade ago with a longtime member of his household staff.

The former governor starred in a series of international blockbusters, largely in the 1990s, including "Total Recall," "Terminator 2: Judgment Day" and "True Lies." He had a small part in last year's "The Expendables."

At the Cannes Film Festival last week, producers launched a bidding war for at least two more installments of the "Terminator" franchise, with Schwarzenegger in a starring role. The sequels were going to be produced by Megan Ellison, the daughter of billionaire Oracle Corp. founder Larry Ellison, and directed by "Fast Five's" Justin Lin. Megan Ellison did not respond to a request for comment. Andy Mitchell, the chief executive of Pacificor, the hedge fund that has owned the "Terminator" rights since a bankruptcy auction last year, did not respond to a request for comment.

The 63-year-old Schwarzenegger also had signed to star in "Cry Macho," in which he would play a horse breeder who descends into alcoholism and depression after his family is killed. The character is redeemed when he befriends a young boy he is asked to kidnap and then has a relationship with the boy's single Mexican mother.

Distribution rights to the movie, which was to have started filming in August, sold around the world in Cannes. But the production is now in limbo, according to a person who worked on the film but declined to be identified because of his relationship with Schwarzenegger, who was to have earned $12.5 million for his acting services.

The film is being produced by "Million Dollar Baby" Oscar winner Albert Ruddy, who said in an email Thursday that he had no comment and that Schwarzenegger's statement "speaks for itself."

Comic book legend Stan Lee also had been developing "The Governator," an animated children's series featuring Schwarzenegger's voice. A confidential outline for the series, which has yet to go into production, described how the show would use Schwarzenegger's personal life for comic effect. In addition to fighting villains, the Governator "has to remember his anniversary, his kids' birthdays," the outline says, while the family subplots will bring "a secondary level of comedy and warmth to the story." A publicist for Lee did not return an email seeking comment.

When news of the out-of-wedlock child was reported, some who follow the movie industry expressed doubt about the survival of Schwarzenegger's acting career.

"This could really alienate the female viewing public," said Mark Young, a professor at USC's Marshall School of Business. "The whole notion of being a role model seems to have disappeared."

In an interview last month discussing his comeback plans, Schwarzenegger said his absence from the screen could be more benefit than liability. "The whole industry has not come up with a new line of action heroes, so [people say] let's go see the mature ones — that's what I call them, the mature ones — because there's nothing new around. That's good news for me."