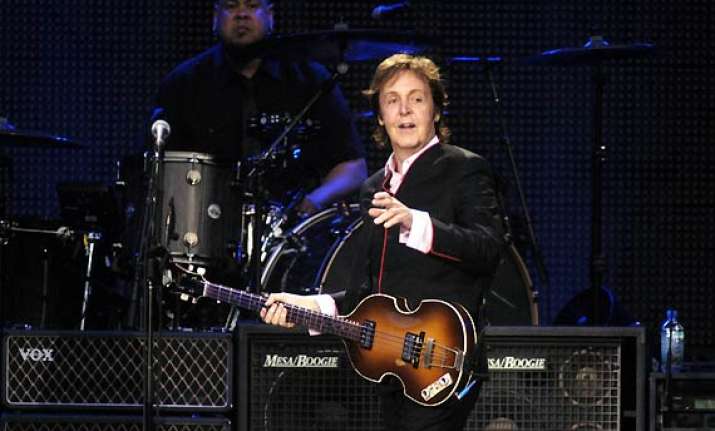 Beverly Hills, Aug 5: Beatles songs have become standard fare on music competition shows, and Paul McCartney admitted on Thursday he is a fan of programs like "American Idol" and "The X Factor."

"I think all of that is cool because it's what's happening today," Paul told reporters as he answered questions via satellite from Cincinnati, OH, at the Showtime portion of the Television Critics Association Session in Beverly Hills.

"You always have to understand, if people want it – it's got some value," he continued. "I feel a little sorry sometimes for some of the performers because they don't have that background [like The Beatles]. We had years before we hit it big time… But I think the shows are fascinating. I watch those kinds of shows."

Paul, who was promoting his upcoming Showtime documentary "The Love We Make," about the Concert for New York, following 9/11, said that while he likes the music shows, he prefers a little more action on the tube.

"My taste in TV is not perhaps the greatest. But I love those kinds of shows. I probably watch more sports. I like ESPN," he said. "I hate to say, I sometimes get completely hooked on the shopping channels.

"Excuse me, where do you think I got this collarless jacket?" he quickly added, referencing a reporter's earlier question about where to get a suit without a collar.

Beyond talk of reality shows, Paul explained why he is just now releasing "The Love We Make," the black and white film directed by Albert Maysles, which will air on Showtime the day before the tenth anniversary of the September 11, 2001 attacks on America.

"There was no… particular reason why it took 10 years. We didn't put it together and finish it until quite recently," Paul said. "I think the fact of the tenth anniversary spurred me into thinking, 'Wait a minute, Albert took some great footage back then that we never did anything with,' and it just seemed like it would be a good opportunity."

The Beatles legend said the original idea to do the Concert for New York, which brought together some of the biggest names in rock, including David Bowie, Elton John and The Who, came very quickly after the attacks, which Paul witnessed firsthand from the ground at JFK airport.

"We were at JFK on the tarmac and the pilot just suddenly said, 'We can't take off, we're gonna have to go back to base.' Out of the window, on the right hand side of the airplane, you could see the Twin Towers. First of all you could see one plume of smoke and you could see two shortly thereafter and I said, 'Well, that's an optical illusion… or it's probably just some little fire or something, but it does look pretty serious,'" Paul recounted. "And we were just looking at that for a while and then suddenly one of the stewards… came to me and said, 'There's something really serious [that's] happened in New York and we've got to get you out of here.'

"I ended up in Long Island watching it on TV… wanting to go into New York, but nobody was allowed back in, and while I was sitting out there twiddling my thumbs thinking, 'What to do? Was there any role I could play in this?' The idea came to me that maybe we could do a concert, get something together," he said.

In addition to the planning of the concert, "The Love We Make" also features footage of Paul on the streets of New York speaking to people, doing interviews – like one with Access Hollywood – and capturing the feeling on the streets.

"There was fear in the air and I'd never experienced that, particularly in New York, so this is where the idea for doing the show came about," he said, referring to the concert.

Nowadays, when he thinks about New York, a locale the Liverpool-bred star has many connections with, he has a number of good memories.

"When you talk to me about New York now, it's the people [I think of], because I married a New York girl — Linda and I'm about to marry another one, so I think I would think first of Linda and her family and our family and her connections with New York and then my upcoming connections," Paul said. "And then, I think after that… Ed Sullivan, Shea Stadium, [the] 9/11 concert and many great concerts there. Most recently Yankees, Citifield before that, [the] closing Shea with Billy Joel. So I have a lot of connections. I love New York.