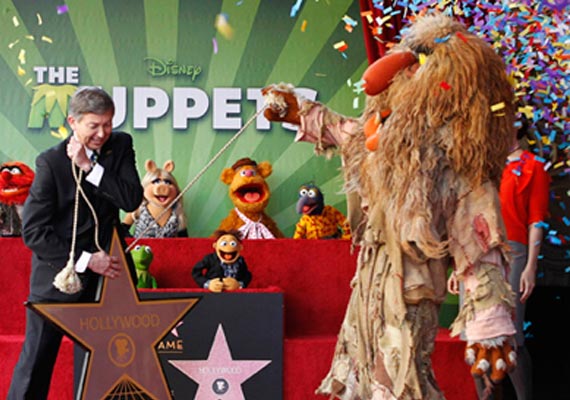 Los Angeles, Mar 22: The Muppets were honored with their own star on the storied Hollywood Walk of Fame on Tuesday, right outside the theater where their recent movie was made and premiered.
Kermit, Miss Piggy, Fozzie Bear and the rest of the puppet gang gathered in front of the El Capitan Theatre, opposite Graumman's Chinese Theatre at the centre of Hollywood's tourist district.
"We are just really happy to be on Hollywood Boulevard today, joining some of the greatest names in show biz," said Kermit as the Muppet star was unveiled on the stellar stretch of sidewalk visited by millions of tourists.
Muppets creator Jim Henson's daughter Lisa added: "The Muppets have truly arrived with their own star on Hollywood Boulevard in this amazing location which also happens to be very near my father's star and Kermit's star."
Key scenes from their recent movie "The Muppets" were filmed at Disney's El Capitan theatre, where its world premiere was held followed by festive season screenings of the film preceded by an in-theatre Muppet show.
At one point Tuesday Miss Piggy — famously keen on the limelight and use of the French first person — asked: "Is it time now for moi to do my medley of every song ever written from every great movie musical ever made?"
Kermit, her long-suffering frog companion, answered: "We'll see if we can get to that later in the show."