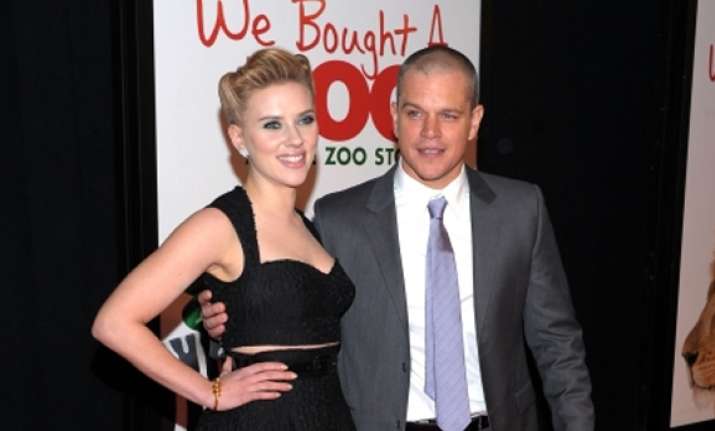 New York, Dec 13: Family man Matt Damon says his most important critics are his four daughters, ranging in age from 13 months to 13-years old.

At the New York premiere of his latest movie, "We Bought a Zoo", the actor admitted he hopes to have a career his kids will be proud of.

"Eventually, when they're adults I want them to look at the stuff that I've done and feel good about it. And I want to be able to defend each choice that I made you know even the ones that don't work. It's a gamble every time you say yes to a movie because there's so many unknowns and you're basically just looking at the kind of attendant pieces and rolling the dice," he said.

But "The Bourne Identity" star says he doesn't let his adoration for his kids keep him from choosing gritty roles.

"I just did a really hardcore, violent, rated R, sci-fi movie right after it. So I still like doing all kinds of stuff. But I'm happy to make a movie that my kids can see, that's nice," said Damon.

In "We Bought a Zoo," Damon stars opposite Scarlett Johansson, to play a dad trying to hold his family together by buying and rebuilding a rundown zoo. That's a project Johansson will not be copying in real life.

"I have no interest in buying a zoo whatsoever. Especially after shoveling muck for three months with Cameron Crowe," Johansson insists. "Cameron really wanted us to be...we're really chopping up carcasses and lugging around big hunks of meat and shoveling out stalls and doing all the dirty work," she explained.

Johansson plays an overworked zookeeper, struggling to keep the dilapidated business running. The 27-year-old actress said she never really gets used to the media attention she receives. "It's extremely bizarre I have to say. I guess you can kind of see it as the cherry on top you know of a wonderful experience. And it's wonderful to be here with the cast and the crew and celebrate the opening of the film. But I don't think walking the red carpet ever gets less stressful and surreal," said Johansson.

For child co-star Maggie Elizabeth Jones, one highlight of making the movie was working with a monkey well used to film crews - having already appeared in "Zookeeper," "The Hangover Part II" and "Night at the Museum." "Well my favorite animal would probably be Crystal the Monkey. She was in the 'Night at the Museum's and stuff like that," explained Maggie. "She would get on my head we would dance and she would eat with me too sometimes."

Director Cameron Crowe is known for his use of music to set the scene and help tell a story. He was hoping to make a lasting impression with the "Zoo" soundtrack composed by Sigur Ros front man Jonsi.

"I wanted this movie to feel like kind of an intoxicating world that you visit and you don't want to leave behind and the music is a big part of it and Jonsi had a kind of optimistic, cheerful, but kind of deep sound that he gives to the movie which lingers with people, which is what my dream always was. You keep a little bit of the movie with you when you left," said Crowe.

"We Bought a Zoo" also stars Thomas Haden Church and Elle Fanning, the younger sister of actress Dakota Fanning.