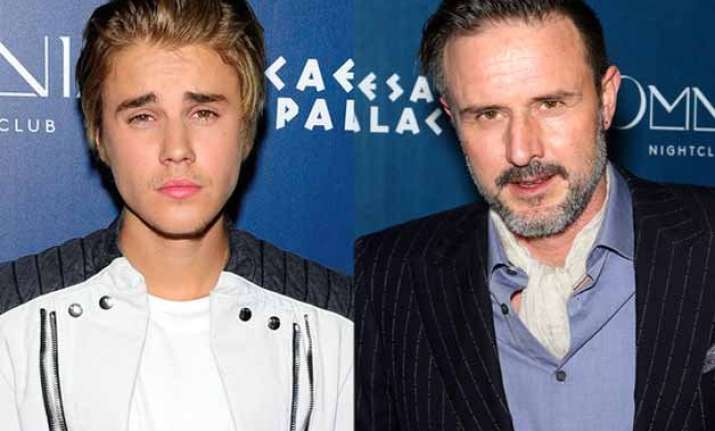 Las Vegas: Actor David Arquette was reportedly thrown out of Justin Bieber's 21st birthday party after he got into a heated row with the singer.
Arquette was among the guests at Bieber's bash, which started at Omnia nightclub here on Saturday night and continued until 7 a.m. on Sunday morning at the rooftop villa at the Nobu Hotel at Caesars Palace, reports pagesix.com.
According to a source, the altercation occurred at the after-party, where Bieber caught Arquette backbiting about him.
"Justin heard what David had been saying, and threw him out of his suite with the help of a friend, because they didn't have security up there," the source said.
"Somehow David managed to get back in and rushed at Bieber to take him out. There was a confrontation, then other people got in the way to separate them. David was thrown out again, this time for good," the source added.
However, Bieber and Arquette's representatives haven't commented on the report yet.
Bieber headed to Las Vegas following his Comedy Central 'Roast' on Saturday.
He celebrated his 21st birthday at Omnia nightclub inside Caesars Palace and invited some of his friends including manager Scooter Braun, stylist Ryan Good, Ashley Benson and Arquette. After the party ended, Bieber posted on Twitter: "Tonight was one of the best nights ever. Thank you to everyone involved. Thank you."
"The man who molested me went to jail for five years when I was a kid. I've never really wrapped my mind around that and I think it's time to start. I've been battling a lot of depression during all my life and I've been handling it the wrong way," he added.
The news comes just days after Brendon was detained the third time in five months on March 13, when he displayed disorderly conduct in public and damaged a hotel room in Tallahassee, Florida.