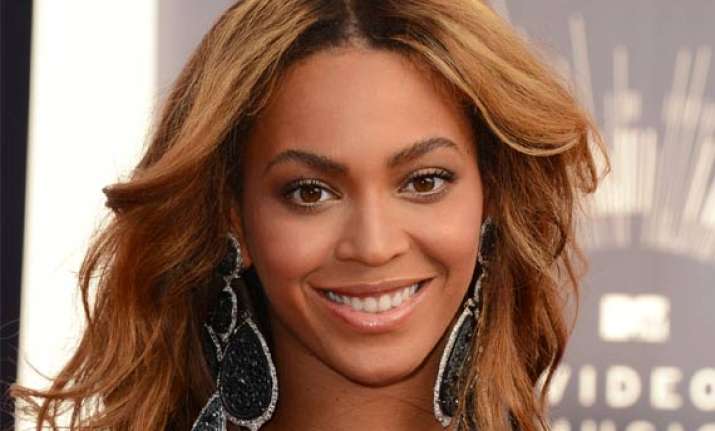 As stars arrived at the MTV Video Music Awards in Inglewood, California, they made it clear they're fans too when it comes to Beyonce.
The pop diva herself didn't walk the red carpet Sunday (24AUG2014) at the Forum. But she had plenty of people talking -- from Usher to former groupmate Kelly Rowland. 
"You know what, man, for people like Beyonce who think bigger than music -- and bigger than just the contribution that she makes and continues to be a shining light -- I love that she's bigger than -- I love it," Usher said. 
Later in the evening, Beyonce was awarded the VMA version of a lifetime achievement award, the Michael Jackson Video Vanguard award. 
She was joined by her daughter and husband Jay Z, amid numerous rumors about their marriage. 
"I think everybody is team Beyonce. Because she is an incredible, phenomenal woman," Rowland said. "She's doing wonderful." 
British crooner Sam Smith had gotten a sneak peek at Beyonce's extended medley performance. 
"I'm the biggest fan of Beyonce. She's actually personally let me go and watch her sound check earlier. They had to ask her and she said yes. And I went and watched it. It's unbelievable. You're all going to die. It's unbelievable," he said. 
"Orange is the New Black" actress Laverne Cox recited the pop star's lyrics on the red carpet. 
"Every night I'm celebrating Beyonce. 'Driver roll up the partition please. I don't need you seeing Yonce on her knees. Took 45 minutes to get all dressed up. And we ain't even going to make it to this club," she said. 
The night also featured a brief, serious social message: Rapper-actor Common held a moment of silence for Michael Brown, the unarmed 18-year-old who was fatally shot by a police officer on Aug. 9. Later, a 15-second spot aired alluding to the shooting in Ferguson, Missouri, urging viewers to take action to eliminate bias. 
Snoop Dogg and singer Jordin Sparks praised the network's move. 
"I respect them for stepping into that lane and giving some respect and showing that they really care about what's going on in the real community," Snoop Dogg said. 
"If you want to bring awareness to something and you want to change something, we've got to keep talking about it. We've got to keep making other people aware," Sparks said. "So I think it's great that they're going to do that."