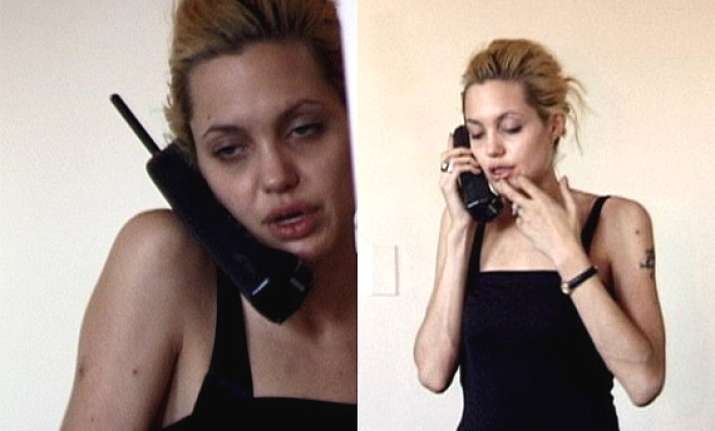 New Delhi: A shocking video footage Angelina Jolie has surfaced online, where she seems to be under the influence of drugs.
Oscar winning actress Angelina Jolie who is usually seen in a glamorous avatar has shocked us with a video footage that has surfaced on the web recently.
Looking filthy with fragile body, blood shot eyes Angeline is talking over the telephone. She is looking completely haggered and drugged.

 Her eyes are bloodshot and hollow, her arms scratched. Walking in her living room, Angelina Jolie picks at her skin with her filthy fingernails as her self-proclaimed drug dealer films her in a phone conversation with her father.
 The actress looked pale and dull due to heavy dose of drugs.
Angelina Jolie has always described the 90s era as a 'dark' and 'dangerous' period of her life, which she was lucky to survive.
Convicted drug dealer Franklin Meyer claims he shot the 16-minute footage with Jolie's consent in 1999 after she called him round to her Manhattan home to re-supply her with heroin and cocaine.
Meyer also claimed that he would visit Angelina two or three times a week when she lived in New York City and that she spent an average of $100 on drugs each time.
The video is shocking and disturbing. The actress has been honest about her troubling past with addiction.
Fortunately, she has come a long way in the last 15 years, and seems to be happy and healthy with her husband Brad Pitt and their children.
Angelina who is internationally acclaimed humanitarian is a global face for social work and the leaked video may cause a heavy damage to her chivalrous image.  
Watch video here...