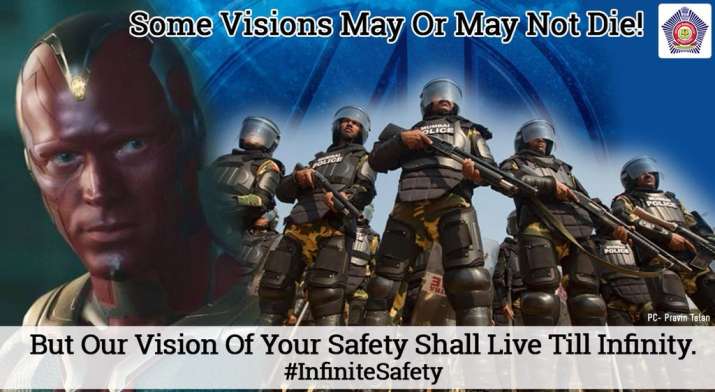 What's that one thing that an ardent movie buffs highly fears? Answer: The Spoilers! We all have and hate that one friend in our group who watches every movie first day and first show and then goes on giving spoilers to his friends. Here, that annoying friend is none other than Mumbai Police itself. On Thursday, Mumbai Police decided to go creative for its 'Safe Mumbai' campaign. However, it backfired.
Unknowingly, the official handle of Mumbai Police ended up giving a spoiler. In no time, the fans of Avengers: Infinity War started spewing anger on the post.
In their Twitter post, Mumbai Police wrote, "A vision that will live forever! #InfiniteSafety for Mumbai"
In the picture, they wrote, "Some Vision May or May Not Die. But Our Vision for Your Safety Shall Live Till Infinity."
A vision that will live forever! #InfiniteSafety for Mumbai pic.twitter.com/ujDjjWiDbR

— Mumbai Police (@MumbaiPolice) April 26, 2018
Many Infinity War fans were already anxious about their favourite characters dying in the film. The trailer has already indicated that Thanos' goons were trying to claim the infinity stone which is engraved in his forehead.
The movie buffs are really angry at Mumbai Police for giving spoilers without an alert.
Mumbai police giving spoilers 😂😂but yeah with a message🙏🏻

— Welcome.To.Kshmr (@welcometokshmr) April 26, 2018
Wtf give spoiler alert 😤

— Upneet (@upneet86) April 26, 2018
April 26, 2018
Please spoiler maat dijiye. Ticket kharidne mein pahut paisa laga hai bhai.

— রৌnak घोষ (@MisterJo_Gho) April 26, 2018
Don't spoil the movie damn it 😂

— Shubham Gharpure (@shubhamblanco) April 26, 2018
However, there were many who praised Mumbai Police's wordplay and clever use of the trending movie to spread an important message.
Who handles your Twitter give him a medal

— Nihal modi (@Nihalmodi2) April 26, 2018
Isse kehte h behti ganga m hath dhona.. wah 🙌🏼

— 11:11 (@neer_i_can) April 26, 2018
An Avengers fan as well! Suitably impressed

— Kay Nair (@kaynair) April 26, 2018
Give this person a trophy! Tweet game on point!

— Sudhir Kamath (@ispeakulisten) April 26, 2018
He best Twitter handle by far !!

— TheBeardGuySpeaks (@BeardGuySpeaks) April 26, 2018