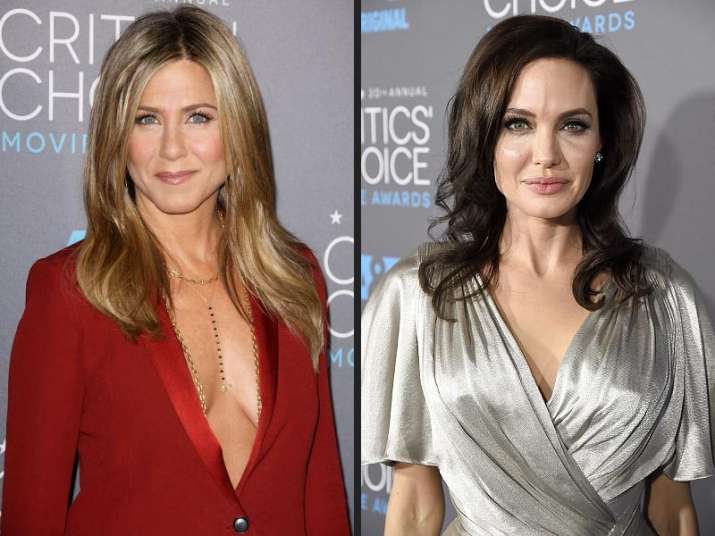 Actresses Jennifer Aniston and Angelina Jolie will both present trophies at the 75th Golden Globe Awards. Aniston and Jolie -- who were both previously married to actor Brad Pitt -- rarely attend the same events, but this year they will be among the celebrities handing out statuettes to the winners, along with other newly-announced presenters Helen Mirren and Emma Stone, reports dailymail.co.uk. 
Other stars who will be presenting trophies at the ceremony, to be hosted by Seth Meyers, include Hugh Grant, Isabelle Huppert, Ricky Martin, Penelope Cruz, Seth Rogen, Kerry Washington, Gal Gadot and Kelly Clarkson.
The Late Night host, who has made a name for himself with his incisive political takedowns, will be donning his tux to host this year's show. He's promised not to go easy on Hollywood's systemic problem with sexual predators. "We're certainly not going to ignore it, but we want to talk about it in a way that's cathartic, as opposed to reminding us all how awful it is," he told USA TODAY.
Amy Poehler, Neil Patrick Harris, Sharon Stone, Alicia Vikander, Sarah Jessica Parker, Chris Hemsworth, "Game of Thrones" stars Kit Harington and Emilia Clarke, Emma Watson and Halle Berry are also among the big names who will give out trophies at the award gala. 
The Golden Globes ceremony will be held in Los Angeles on Sunday and will air in India on Vh1, Comedy Central and Colors Infinity on Monday. 
(Wiith IANS Inputs)